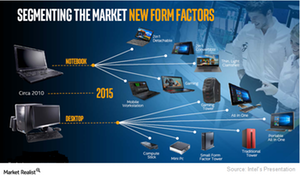 What Is Intel's Strategy for the PC Business?
By Puja Tayal

Jun. 22 2016, Updated 7:04 p.m. ET
Intel's strategy for PC business
In the previous part of the series, we saw that the slowdown in PC shipments affected the revenues of Intel's (INTC) CCG (client computing group). The company's large exposure in this segment impacted the overall company's revenue, with revenue falling in three of the past five years. In this declining market, Intel maintained its PC revenue by eating up Advanced Micro Devices' (AMD) market share.
However, the company expects to maintain stable revenues and profitability from computing through product innovations, node optimization, and segmentation.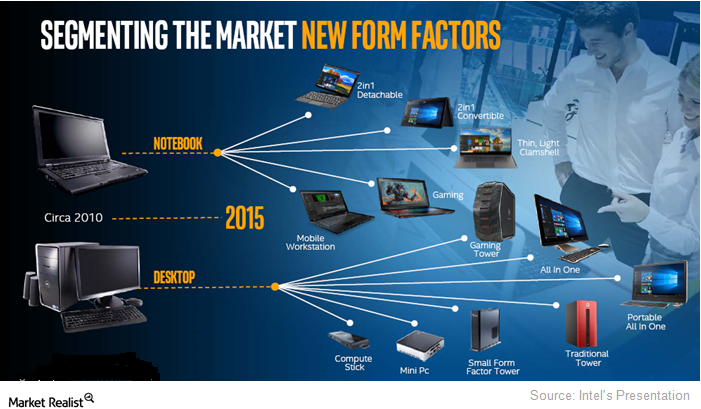 Article continues below advertisement
Product innovations
Intel is currently working on PC innovations such as wireless docking/charging, eliminating passwords, and a natural interface. These innovations are likely to be implemented by 2018 at the latest and encourage consumers to replace their PCs.
Node optimization
Intel is looking to optimize its 14-nm node by launching three microprocessors instead of two. So far, it has launched two 14-nm microprocessors, Broadwell and Skylake, and is scheduled to launch Kabylake in 2016.
However, some analysts don't favor the launch of Kabylake amid the weak PC sales. A Digitimes article stated that distributors have large stocks of Skylake processors piled up in their warehouse. The launch of Microsoft's (MSFT) Windows 10 and Intel's Skylake failed to generate demand for PCs.
A new microprocessor that doesn't have any significant technology improvement would make the inventory issues worse. A wise decision for Intel and AMD would be to delay the launch of their new processors by one to two years in order to avoid dumping Kabylake and Zen on already pressed PC makers.
Article continues below advertisement
PC segmentation
Intel has witnessed strong growth in its gaming and its 2-in-1 segment. With the emergence of VR (virtual reality), there could be an increasing demand for high-performance PCs. NVIDIA (NVDA) stated that only 1% of PCs currently in use are VR-ready.
Intel recently launched a mini-PC Skull Canyon NUC (next unit of computing) that offers a superior gaming performance similar to that of a gaming console such as Microsoft's Xbox. A rich product mix would help Intel increase its average selling price, thus improving CCG's profitability.
Intel's restructuring
Amid these challenging times, there was a management change in the CCG space. Intel's CCG head, Kirk Skaugen, resigned and his position was taken up by Navin Shenoy. Moreover, the company announced 12,000 job cuts, the majority of which would take place in the slow-growth areas of CCG such as consumer PCs. However, CCG would continue to serve the growth areas of gaming, 2-in-1s, LTE (long-term evolution), and 5G radios.
Next, we'll look at Intel in the mobile space. The Technology Select Sector SPDR Fund (XLK) has 10.2% of its holdings in semiconductor stocks, 3.6% in INTC, 9.4% in MSFT, and 0.58% in NVDA.