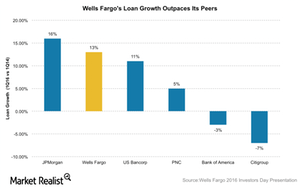 Wells Fargo's Loan Growth Outpaces Bank of America and Peers
Wells Fargo has the largest loan portfolio
Wells Fargo (WFC) has the largest loan portfolio in the financial sector (XLF), anchored by its mortgage portfolio. Although it has recently reduced its mortgage lending due to low interest rates, this is still its strongest area of growth.
Wells Fargo has a healthy balance of consumer and commercial loans. In 2015, its loan portfolio reflected strong organic growth, and it benefited from the acquisition of loans from GE Capital.
In 1Q16, Wells Fargo's (WFC) loan portfolio was worth $947 billion, the largest among its peers. JPMorgan Chase (JPM) and Citigroup (C) had loan portfolios of $847 billion and $619 billion, respectively. Bank of America's (BAC) loan portfolio totaled $901 billion.
Article continues below advertisement
Loan growth outpaces banking peers
Loan growth has been a key revenue driver for Wells Fargo. While net interest yields on Wells Fargo's loan portfolios remain low due to prolonged low interest rates, substantial loan and deposit growth has offset this effect and boost the bank's overall net interest income.
Wells Fargo's loan growth is among the highest in the banking sector. From 2014–2016, Wells Fargo's loan portfolio grew by 13%. This was second only to JPMorgan Chase's loan growth of 16%. In comparison, the loan portfolios of Citigroup (C) and Bank of America (BAC) contracted by 3% and 7%, respectively.