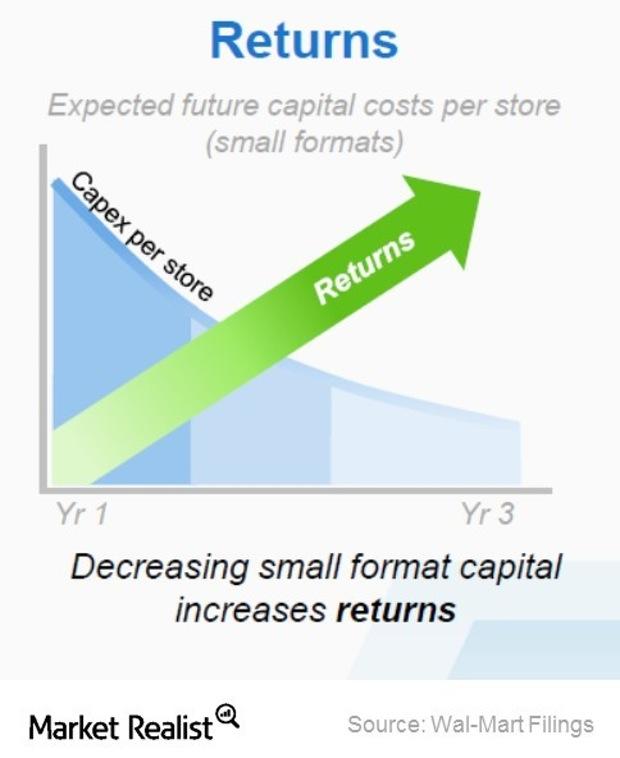 Walmart's Neighborhood Markets: A Compelling Retail Proposition
By Phalguni Soni

Nov. 22 2019, Updated 5:57 a.m. ET
The benefits of smaller retail formats for Walmart and rivals
Walmart's (WMT) Neighborhood Markets format stores, which average 42,000 square feet in size, have shown considerable resilience and sales traction over the past few years.
The company first rolled out the format in 1998. At the end of March 2016, Walmart operated 647 Neighborhood Markets format stores. Walmart plans on opening around 85–95 such stores this fiscal year.
Article continues below advertisement
Neighborhood Markets: Competitive comps sales numbers
Neighborhood Markets format stores consistently performed well above the comps sales numbers reported by the rest of Walmart's retail fleet in the US. Same-store sales growth has come in the mid- to high-single-digits range for Neighborhood Markets format stores over the past several quarters.
Comps sales growth came in at 7% in fiscal 4Q16 and 7.1% in fiscal 1Q17, compared to 0.6% and 1%, respectively, for Walmart US overall in the same period.
Smaller format stores: The financial case
Neighborhood Markets format stores (XRT) are faster off the ground and the ROIs (return on investment) are high. Small formats also enable expansion in urban areas, where real estate costs can be prohibitively high for opening the typical big-box stores favored by Walmart and its competitors. Because most stores are open 24/7, they also provide convenience and drive higher customer traffic.
They also enable Walmart to explore omni-channel fulfillment options. This is an increasingly important consideration as the company expands grocery pickup in more locations and adds more stores to its fulfillment network.
Rival Target (TGT) is also exploring multiple store formats that the retailer terms flexible formats. These include the small-format Target Express.
Growth in smaller formats also enables Walmart to take on dollar store rivals like Dollar Tree (DLTR) and Dollar General (DG), which have mushroomed in recent years. These rivals have more than 12,000 stores in the US. Store growth for DLTR has been spurred by its merger with Family Dollar Stores last year.