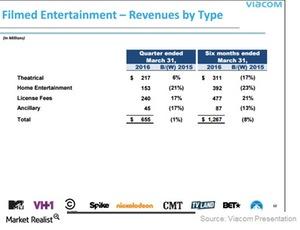 Viacom Expects to Benefit from Sale of Minority Stake in Paramount
Viacom's sale of its minority stake in Paramount
There is considerable speculation about who would buy a minority stake in Viacom's (VIAB) Paramount. Paramount is part of the company's Filmed Entertainment segment, which consists of Paramount Studios and Paramount Television.
In early 2016, Viacom stated that it is willing to sell a minority stake in Paramount. The company elaborated on this potential sale at the June 9, 2016, Gabelli & Company Movie & Entertainment conference.
Article continues below advertisement
Viacom stated that "it would involve the strategic investor coming in at about 49% of Paramount. It will be a tax-efficient transaction. We believe that the attributes of any of the parties that we are now talking to would be such that like India, the partnership will create more value just operationally than if Paramount were alone within Viacom."
Viacom added that if the transaction is completed, it expects to "unlock value" of around $10 per share of Viacom.
Viacom stated at a Deutsche Bank (DB) conference in early 2016 that Paramount's brands have an enormous appeal in international markets. Viacom described these brands as "big enhancers of value, revenue, [and] profitability." For example, the company noted that its Paramount Channel "is doing very well and as well as digital and mobile opportunities both in the U.S. and abroad."
Filmed Entertainment segment in fiscal 2Q16
As the above chart indicates, Viacom's Filmed Entertainment segment had revenues of $655 million in fiscal 2Q16, a decline of 1% year-over-year. However, the company stated at the Gabelli conference that it believed that its Filmed Entertainment business was at the "low end of the cycle in the film business" and would bounce back in time.
Viacom's Paramount division had a tough first half of 2016. It expects Paramount Studios to report a loss in fiscal 2016. However, the company is working on its target of producing around 15 movies per year through Paramount Studios.
Paramount Television produces original programming for television and SVOD (subscription video on demand) platforms such as Netflix (NFLX). The company expects to generate long-term value from Paramount Television.
Viacom accounts for 0.29% of the PowerShares QQQ Trust Series 1 ETF (QQQ). QQQ has 4.5% exposure to the television sector. QQQ also hold 0.62% of its portfolio in 21st Century Fox (FOXA).