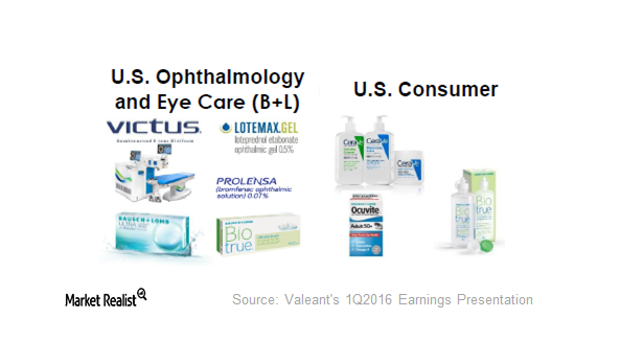 Valeant' Eye Health and Consumer-Oriented Portfolios
By Jillian Dabney

Jun. 21 2016, Updated 11:05 a.m. ET
Eye health and consumer-oriented portfolios
After the acquisition of Bausch + Lomb in fiscal 2013, Valeant Pharmaceuticals International (VRX) expanded its existing eye care business by getting access to Bausch + Lomb's ophthalmology and eye care portfolio.
The portfolio includes contact lenses and lens care products along with pharmaceuticals, intraocular lenses, and surgical equipment. It competes with Alcon, the ophthalmology product division of Novartis AG (NVS). Other major eye health companies are Regeneron (REGN) and Pfizer (PFE).
The consumer-oriented durable products are worth $3.5 billion. It includes Bausch + Lomb products, lenses, solutions, CeraVe, and other topical products.
Article continues below advertisement
Eye health products
Biotrue ONEday, PureVision, SofLens, Boston, Optima, and Naturelle are the major contact lens offerings. Biotrue ONEday and ReNu are multipurpose disinfectants used for soft contact lenses. The Boston line of products is used for cleaning gas-permeable contact lenses.
Valeant's eye health products serve a wide range of eye disorders such as glaucoma, eye allergies, conjunctivitis, dry eye, and retinal diseases. Its proprietary pharmaceutical line of products includes Besivance, Lotemax, Alrex, Zylet, Retisert. Bausch + Lomb's pharmaceutical products are Bepreve, Istalol, Vitrase, Ovine, and Prolensa.
Ocuvite, PreserVision, Soothe, PeroxiClear, Alaway, and Lacrisert are the leading OTC (over-the-counter) drugs.
Valeant expects mid-single-digit growth of ~4% for the business in fiscal 2016. Its ophthalmology and contact lens portfolios have four and nine pipeline programs, respectively. Added new capacity for BioTrue and Ultra contact lenses would support growth of the business.
Let's analyze Valeant's debt situation in the next part of our series. Since Valeant is a highly leveraged company, it's a risky investment. To avoid direct risk associated with the stock, you can choose to invest in the Vanguard FTSE All-World ex-US ETF (VEU), which holds 0.03% of its assets in Valeant.