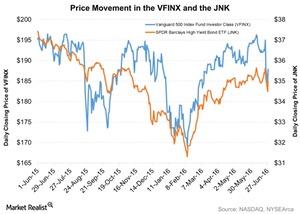 After the Fallout from Brexit, the Fed's Hands Are Tied Again
US stock indexes fell
The three US equity indexes that we review in this weekly series fell from June 21 to June 28, 2016, after the United Kingdom voted to leave the EU (European Union). With the Brexit fallout, the Federal Reserve will most likely delay the next interest rate hike until the end of this year or even next year. The S&P 500 Index is tracked by the Vanguard 500 Index Fund Investor Shares (VFINX) and the SPDR S&P 500 ETF (SPY), both of which fell 2.5%. The Dow Jones Industrial Average (DJIA) fell 2.4%, and the NASDAQ fell 3.1%.
Article continues below advertisement
In the June 14–15 FOMC (Federal Open Market Committee) meeting, Janet Yellen warned that if the United Kingdom decided to leave the EU (EWZ), there would be disruptive tremors around the globe: "It is a decision that could have consequences for economic and financial conditions in global financial markets." She added, "If it does so, it could have consequences in turn for the US economic outlook that would be a factor in deciding on the appropriate path of policy."
However, the markets are expected to recover soon with the beginning of the earnings season.
Muted reaction to economic data
Meanwhile, the Market reaction to economic data was pretty much muted due to Brexit. The US economy's annual growth rate in the first quarter was raised again to 1.1%, which was in line with expectations.
Despite the US economy gaining momentum as suggested by retail sales and housing data, business investment remains subdued. Economists say uncertainties over the global economy, which worsened with the United Kingdom's vote to leave the EU, and the upcoming US presidential election, are making companies cautious about spending.
Article continues below advertisement
High-grade bond market
US Treasury yields fell across the yield curve after the United Kingdom surprisingly voted to leave the EU, leading to a rise in demand for safe-haven Treasuries. For more on this, read The Brexit Effect: Demand for Safe-Haven Treasuries Soars.
Meanwhile, investment-grade bond yields, which take cues from the Treasury markets, also fell last week. Read the series titled Brexit Became a Reality: Why Did High-Grade Issuance Fall? to learn more about the high-grade bond market.
Junk bonds
Junk bond yields rose 7 basis points week-over-week and ended at 7.49% on June 24, 2016. Due to a rise in yields, mutual funds and ETFs like the American Funds American High-Income Trust Class A (AHITX), the T. Rowe Price High Yield Fund Advisor Class (PAHIX), the SPDR Barclays Capital High Yield Bond ETF (JNK), and the iShares iBoxx $ High Yield Corporate Bond ETF (HYG) rose in the week ending June 24.
This series will cover developments in the primary and secondary markets for high-yield debt and leveraged loans. We'll begin with developments in the high-yield primary market issuance in the next part of this series.