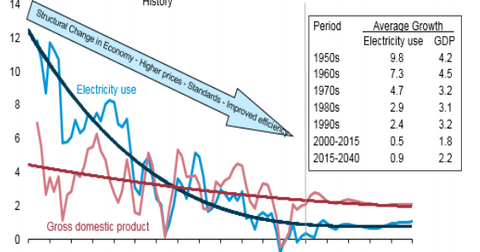 US Electricity Consumption Growth to Stay Lower through 2040
By Vineet Kulkarni

Jun. 23 2016, Published 12:26 p.m. ET
Electricity demand
Falling electricity demand remains the focal point of the changing dynamics in the US utility industry. Electricity consumption growth kept falling due to energy efficiency programs after peaking in 2008. The EIA (U.S. Energy Information Administration) forecast that electricity demand will likely grow in the long term, but the growth rate will stay lower. It slowed almost continuously over the last 60 years.
Article continues below advertisement
Factors behind slowing electricity demand
Economic growth and electricity demand are generally linked to each other. However, the linkage is gradually turning to slower electricity demand growth related to economic growth. The drivers behind this change are mainly slowing population growth and more efficient electrical equipment.
According to the EIA, energy efficiency standards for lighting and other appliances that came into existence in the last few years have put downward pressure on electricity consumption.
Slowing growth in electricity demand is negative for electric utilities. Regulated utilities (SO)(DUK)(PPL) are comparatively better placed in this slowing demand scenario compared to wholesale market players (EXC)(FE).
Utilities are continuously feeling the heat from declining electricity demand. As a result, bigger utilities are taking the inorganic route of mergers and acquisitions to tap growth opportunities. Electric utilities are diversifying into natural gas distribution or enhancing their midstream investments. Market observers are expecting that traditional utilities may opt for more strategic options in the next few years to combat lower electricity demand.