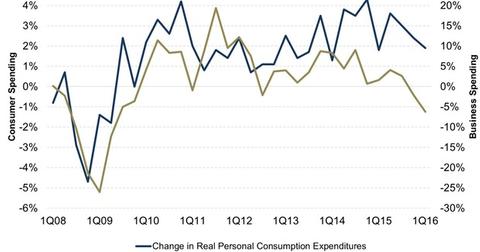 US Consumer Spending Not a Worry, but Business Spending Is
By David Ashworth

Updated
Consumer spending is crucial
Consumer or household spending is the most important component of US economic output. Economic growth and companies depend on how much consumers are willing to spend. The effect is felt by companies such as Coca-Cola (KO), Costco Wholesale (COST), Proctor & Gamble (PG), and many others. Investors in these companies (XLY) (FBGRX) (HCAIX) are also impacted by a shift in consumer spending.
Consumer spending is even more crucial for the US economy when exports are depressed, when federal government spending has declined, and when business spending is down.
In its June 2016 monetary policy statement, the Fed stated that "Growth in household spending has strengthened." However, it called business spending "soft."
Article continues below advertisement
Consumer and business spending trends
Growth in household or consumer spending slowed down from a 2.4% pace in 4Q15 to a 1.9% pace in 1Q16. It was a shade more than the 1.8% pace in 1Q15. That's why policymakers aren't worried about consumer spending.
However, there was bad news on the business spending front. It rose by 1.6% in 1Q15 but declined in the last two quarters. In the advance estimate released in April, non-residential fixed investment, or business investment, fell at a 2.1% pace in 4Q15 and declined 5.9% in 1Q16. According to the May reading, the 4Q15 pace remains unrevised. The 1Q16 pace has been further reduced to -6.2%.
Slowing investment in business spending can have a direct impact on hiring by businesses. Further, consumer spending can't be taken for granted. A sustained slowdown in hiring accompanied by a rise in crude oil prices can have a negative impact. This, in turn, can impact inflation. Let's look at that in the next part of the series.