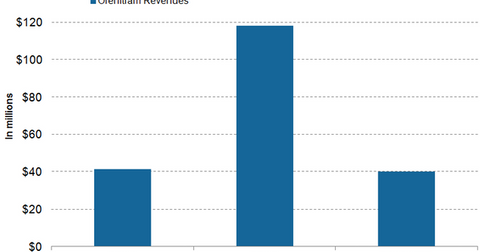 Understanding the Sales Potential of United Therapeutics' Orenitram
By Margaret Patrick

Updated
Orenitram's sales
United Therapeutics' (UTHR) Orenitram is an oral medication containing the prostacyclin analogue trepostinil. Orenitram was approved by the FDA (US Food and Drug Administration) in December 2013 for the treatment of pulmonary arterial hypertension (or PAH) patients belonging to WHO Group 1 category. PAH Group 1 can be further classified as an idiopathic PAH, wherein the cause is unknown, due to genetic mutation, the side-effects of certain drugs, congenital heart diseases, and conditions related to connective tissues, liver, or HIV.
Article continues below advertisement
Orenitram was launched in the US market in 2Q14. United Therapeutics (UTHR) expects that Orenitram has the potential to reach $1 billion in annual sales. If Orenitram manages to reach this sales figure, it could boost the company's share price and the SPDR S&P Biotech ETF (XBI). United Therapeutics makes up about 1.6% of XBI's total portfolio holdings.
United Therapeutics holds multiple patents related to Orenitram that are expected to expire between 2024 and 2031 in the US and between 2024 and 2027 in other international markets. Additionally, being approved by the FDA as a new dosage form due to its oral mode of administration, Orenitram will likely enjoy marketing exclusivity until December 2016.
Competition
Actavis Laboratories has submitted an abbreviated new drug application under the paragaraph IV provision seeking approval to market the generic version of Orenitram. United Therapeutics filed a patent infringement lawsuit against Actavis in March 2016. To know more about paragraph IV provision, please refer to "Is a Para IV Filing Rewarding for a Generic Company?"
Orenitram faces competition from other prostacyclin analogues such as Remodulin and GlaxoSmithKline's (GSK) Flolan. Orenitram may also witness reduced sales in case Sandoz, a subsidiary of Novartis (NVS) and Teva Pharmaceuticals (TEVA), launches generic versions of Remodulin.
Actelion Pharmaceuticals' Uptravi, an oral PAH drug, poses tough competition to Orenitram. Unlike Orenitram, which is indicated to improve exercise capacity, Uptravi holds a stronger label that includes delayed disease progression and subsequent reductions in hospitalizations.
In the next part, we'll analyze United Therapeutics' PAH drug, Adcirca.