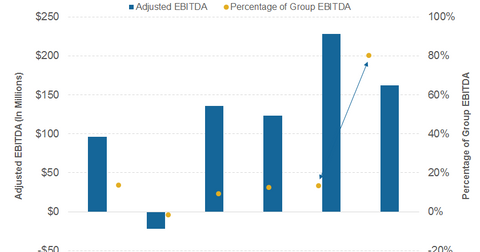 U.S. Steel Europe: Expect Modest, Not Major, Recovery
By Mohit Oberoi, CFA

Jun. 9 2016, Updated 10:05 a.m. ET
U.S. Steel Europe
U.S. Steel Corporation (X) also has a presence in Europe and is among the leading flat rolled steel companies in Central Europe. Historically, Europe (VGK) hasn't been a major contributor to U.S. Steel's consolidated earnings.
However, things changed last year. U.S. Steel's European operations accounted for 80% of the company's consolidated EBITDA (earnings before interest, tax, depreciation, and amortization) in 2015. In 1Q16, Europe was the only region that generated positive EBITDA for U.S. Steel, albeit only a modest $5 million.
Article continues below advertisement
Trade cases?
More than the improved earnings from its European operations, it was the fall in U.S. Steel's Tubular segment's performance that increased the earnings contribution from Europe. Now, the question is this: Can Europe continue to deliver the goods for U.S. Steel?
While recent trade cases have buoyed the US steel industry, Europe is still weak. A major recovery in U.S. Steel's European earnings will depend on how Europe addresses the domestic steel industry's woes by clamping down on steel imports from countries such as China. However, opinions have been mixed in the region.
ArcelorMittal (MT) gets almost half of its revenue from Europe, while AK Steel (AKS) and Nucor (NUE) get most of their revenues from North America.
Earnings could improve
Nonetheless, the recent uptick in global steel prices has flowed to Europe as well. European steel prices have risen in the last couple of months, though the rise has been modest compared to the surge in US steel prices.
Almost half of U.S. Steel's European sales are either spot or market linked with monthly or quarterly resets. Higher spot steel prices will likely flow to U.S. Steel's European segment's earnings in the coming quarters.
The real game changer could be U.S. Steel's Flat-Rolled segment, as we'll discover in the next article.