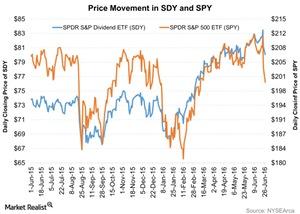 2 Dividend Strategies Positioned to Outperform the S&P 500
By Lynn Noah

Updated
Dividend strategies
There are two dividend strategies that became famous during the financial crisis of 2008 and are back in action in 2016 due to turbulence in the equity market caused by oil price fluctuations, the general slowdown, and concerns over international economic health. These are the "Dividend Aristocrat" strategy and "Dividend Dogs," also known as the "Dogs of the Dow" strategy.
Article continues below advertisement
Dividend Aristocrat
In the Dividend Aristocrat strategy, investors pick the best large-cap stocks with decades-long track records of increased payouts and total returns exceeding those of just "buying the market" with an S&P 500 Index fund (SPY). For example, the S&P High Yield Dividend Aristocrats Index includes components of the S&P Composite 1500 that have raised their dividends for at least 20 consecutive years. This is made up of 107 stocks, including all of the S&P 500 Dividend Aristocrats. The SPDR S&P Dividend ETF (SDY) tracks the performance of this index. SDY has risen by 13.6% YTD (year-to-date).
Dividend Dogs
The Dividend Dogs strategy was made popular by Michael B. O'Higgins. In the Dogs of the Dow strategy, investors invest in ten unfavorable Dow stocks that are expected to rebound but have the highest dividend yield at the end of each year. Investors hold these stocks for exactly one year.
Currently, there is no single ETF that replicates this strategy. However, the ALPS Sector Dividend Dogs ETF (SDOG), which applies the Dogs of the Dow strategy on a sector-by-sector basis to stocks trading in the S&P 500, has risen by 14.0% on a YTD basis.
Dividend-paying stocks appeal to many investors as they are among the few remaining sources of plentiful portfolio income. The above chart shows the ten highest-yielding Dow stocks as of December 31, 2015. These ten stocks are 2016's Dogs of the Dow.
Conclusion
You shouldn't rely entirely on the Dividend Aristocrat or the Dogs of the Dow strategies to provide strong returns every year. If you're looking for healthy blue-chip stocks that pay high dividend yields, both strategies are a good way to narrow down your options. If you're looking for additional income in the wake of volatility in the stock market and lower yields in the bond market, both strategies would be appropriate for your portfolio.
In the next article in this series, we'll look at the pros and cons of an interest rate hike for stocks.