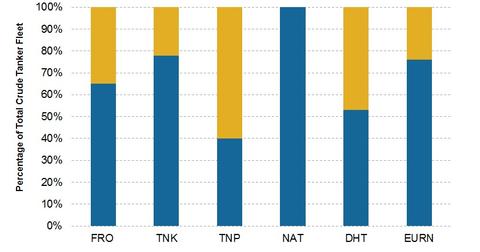 Tsakos: Active in the Time Charter Market
By Sue Goodridge

Jun. 23 2016, Updated 11:14 p.m. ET
Cyclical industry 
The crude (DBO) tanker industry is cyclical, and it is currently in its high phase. However, the current high spot rates may not remain at this level forever.
Along with enjoying the current high tanker rates in the industry, it's important for companies to plan for the future.
Article continues below advertisement
Spot versus fixed rates
It's worth noting that companies with high exposures to long-term contracts underperform in times of improving rates, since they're not able to take advantage of higher spot rates.
On the other hand, a larger exposure to the spot market means higher risk, as spot rates can be volatile. Time-charter contracts have relatively more predictable cash flows than spot contracts.
Nordic American Tankers
For the past three years, Nordic American Tankers (NAT) has operated its fleet only in the spot market.
Article continues below advertisement
Euronav's changing exposure
In 2015, the company's fixed exposure was 20% of its total fleet operating days, and its spot exposure was 80%. Euronav's (EURN) fixed exposure in 1Q16 rose to 24%, and its spot exposure fell to 76%.
Tsakos: Most active in TC market
Tsakos Energy Navigation (TNP) has been active in securing new contracts. Taking into consideration newbuild deliveries, 60% of Tsakos's 2016 fleet available days are contracted.
From the above chart, we can clearly see among the peers that most of Tsakos's fleet operates under time charter contracts.
Article continues below advertisement
Teekay Tankers
Teekay Tankers's spot-fixed exposure at the end of the first quarter was 78% of the fleet in spot. The remaining 22% was in the time charter market. This was slightly changed from the previous quarter, when the spot exposure was 79%.
DHT Holdings
Of DHT Holdings's (DHT) 17 vessels, eight vessels are on fixed-rate time charters and nine vessels have spot-market exposure.