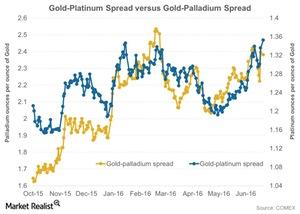 Tracking Precious Metals' Cross-Commodity Rates
By Meera Shawn

Nov. 20 2020, Updated 11:18 a.m. ET
Cross-commodity rates
The turbulence in worldwide markets has helped precious metals, especially gold and silver, to reach new highs that we haven't seen in the last few months. By comparison, platinum and palladium have been underperformers.
Gold, silver, and platinum saw YTD (year-to-date) rises of 24.3%, 27.5%, and 9.8%, respectively, whereas palladium saw a fall of close to 0.62% as of June 27. Platinum saw losses initially in 2016. Platinum's and palladium's falls greatly impacted their respective cross-commodity rates with gold.
Article continues below advertisement
The cross-commodity rates of gold-platinum and gold-palladium depict the number of ounces of platinum and palladium, respectively, it takes to buy a single ounce of gold. These spreads help analysts to make comparative studies of precious metals performances. The current gold-platinum and gold-palladium spreads are 1.4 and 2.4, respectively.
Economic performance
As the graph above shows, the ups and downs in these cross-commodity spreads have resulted from the volatile movements of precious metals. The fall of platinum-group metals and the rise of haven metals created a larger gap between these metals, boosting cross rates.
If platinum-group metals show more strength going forward, the spread could fall, but if gold and silver continue to rise on global weakness indicators, the spread will rise. In this sense, we can posit that these spread measures tend to follow the same route as the economy.
Mining-based ETFs
The mining funds that closely track the performances of platinum and palladium include the Physical Platinum Shares ETF (PPLT) and the Physical Palladium Shares ETF (PALL). These two funds have seen rises of 0.13% and 3.8%, respectively, on a 30-day-trailing basis.
Mining-based companies that saw jumps in their prices due to Brexit and gold's related rise included Cia De Minas Buenaventura (BVN), Coeur Mining (CDE), and Franco Nevada (FNV). These three companies rose by 4.8%, 5.1%, and 2.8%, respectively, on a five-day-trailing basis.
For more up-to-date analysis, keep checking in with Market Realist's Metals and Mining page.