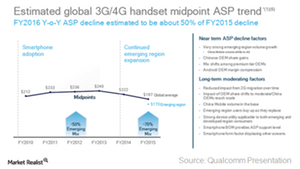 Tough Times Ahead for Qualcomm
By Puja Tayal

Updated
Several bottlenecks slow Qualcomm's growth potential
The semiconductor industry is going through turbulent times, with some end markets performing and some slowing. Unfortunately, the markets that are slowing are the ones that account for a majority of the semiconductor sales, including PCs and smartphone markets, as well as Intel (INTC) and Qualcomm (QCOM)—two giants in these two markets that have both taken a big hit and expect weak earnings for the current quarter.
In the smartphone market, demand has been shifting toward low-end phones that have lower margins. Hence, pricing pressure is intensifying in this market. Moreover, Qualcomm's key customer Apple (AAPL) recently shifted some of the LTE (long-term evolution) modem orders for iPhone 7 to Intel.
Article continues below advertisement
Meanwhile, Qualcomm is facing antitrust probes from South Korea (EWY), the US, and Europe, which has affected the growth of its licensing business. All these factors together have hampered the company's growth potential, and it reported weaker guidance for fiscal 3Q16. Hence, the company has rolled up its sleeves and is taking action to boost its revenue.
Qualcomm's growth strategy 
Qualcomm is taking strong steps to recover the lost licensing revenue that Chinese handset makers did not pay by under-reporting their sales. It has recently filed a patent lawsuit against Alibaba-backed (BABA) Chinese handset maker Meizu for the same.
Qualcomm has also accelerated its move to IoT (Internet-of-things) by launching its Snapdragon Wear 1100 for wearables, including Snapdragon Flight for drones. The company is leveraging its wireless technology in the IoT space and has launched two modems that will provide LTE for IoT devices.
In the communications space, Qualcomm is also accelerating its work on 5G (fifth generation) and recently unveiled a 5G supported user equipment and base station prototype for lower "sub-6GHz" spectrum bands.
In this series, we'll look more closely at the above growth strategies and examine their impact on Qualcomm's earnings.