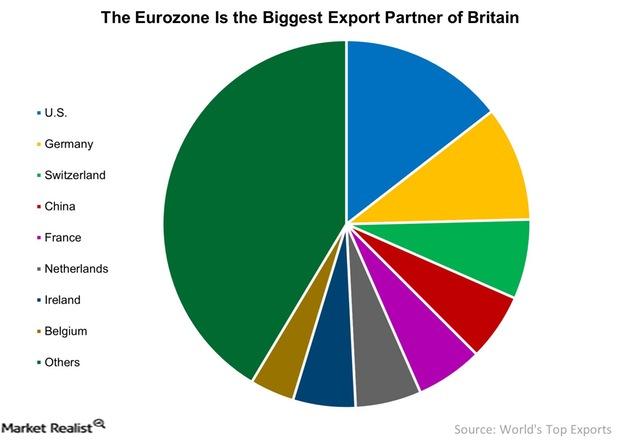 The Implications of the Brexit: What You Should Know
By Richard Turnill

Dec. 4 2020, Updated 10:53 a.m. ET
The exit process won't be an easy one. We believe the UK's departure from the EU will be a long and complicated process as officials sort through UK and EU laws. The UK will have to strike new trade deals with the now-spurned EU and with the rest of the world. The resulting potential losses in services exports and investment flows will likely overwhelm any benefits of lower payments to the EU.
Scottish independence is back on the table. Prime Minister Cameron's departure sets the stage for a Conservative leadership election, dominated by Leave supporters, this summer. This could make for volatile EU exit negotiations and set the stage for another independence attempt by Scotland.
Article continues below advertisement
Market Realist – Implications of the Brexit
The EU is the UK's largest trade partner. Around half of the UK's trade is with the EU. The graph above shows the UK's biggest export partners. 14% of exports end up in the United States (IVV) while 10% end up in Germany (EWG). Most of the UK's major export partners belong to the EU.
EU membership reduces trade costs between the UK (EWU) and the EU. This policy makes goods and services cheaper for UK consumers and allows UK businesses to export more.
Leaving the EU (EZU)(FEZ) would lower trade between the UK and the EU because of higher tariff and non-tariff barriers to trade. Plus, the UK would benefit less from future market integration within the EU. However, the main economic benefit of leaving the EU would be a lower net contribution to the EU budget.
The Brexit has brought back the possibility of another referendum for Scottish independence within the United Kingdom. Scotland backed staying in the EU, with 62% votes to remain. Now that the UK is leaving the EU, Scotland is likely to have another referendum. Read on to find out more implications of the Brexit.