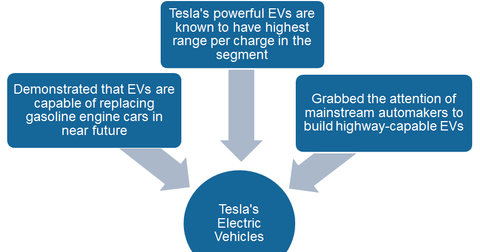 Has Tesla Really Changed the Dynamics of the Auto Industry?
By Jitendra Parashar

Updated
Electric vehicles
With auto industry dynamics changing at a rapid pace, automakers are working to build vehicles that provide higher fuel efficiency. The advent of electric vehicles has given a new dimension to the auto industry. In such an environment, automakers (VCR) have had to innovate and implement faster than their competitors.
Companies such as Tesla (TSLA) and Nissan have already demonstrated the potential of EVs (electric vehicles). Now, let's take a look at how much Tesla has actually changed auto industry dynamics.
Article continues below advertisement
Electric vehicles before Tesla
If we look back through the history of EVs, we'll find several automakers launching limited-production EV models and discontinuing them shortly afterward, for one reason or another. Many of these car companies even tried to build EVs just to be able to keep selling their traditional gasoline engine cars in key markets.
The world's largest automaker, Toyota (TM), for example, established an electric vehicle development division in 1992. This was done primarily to meet the zero emissions regulations passed in 1990 by California. This regulation required vehicles with zero exhaust emissions to make up 2% of an automaker's total units sold, starting in 1998.
Similarly, Honda (HMC) launched its first electric vehicle, the Honda EV Plus, in April 1997. But the production of this model was limited, with just a few hundred car units rolling off the line.
Other automakers including General Motors (GM) and Ford (F) have also tried their luck in the EV segment. These electric vehicles were considered methods of future transport and brought positive publicity to the automakers for their innovations. But no automaker dared to make these electric vehicle mainstream until Tesla's cars hit the market.
A milestone by Tesla
The automobile industry is highly capital intensive in nature. In 2008–2009, the auto industry crisis became a nightmare for automakers, and even established automakers like General Motors and Chrysler took trips to bankruptcy court.
At that time, no one wanted to be in the auto industry. But this was precisely when Tesla, an auto industry start-up at the time, put its first electric car model, the Roadster, on the market. The car was not a big success financially, but it certainly impressed many by the showcasing the power and potential of EVs.
Later, Tesla's Model S brought a noticeable change to the auto industry and grabbed the attention of major automakers as well. Not only it has impressed consumers, but it has also boosted investor confidence in the company.
Continue to the next part to read a discussion on should investors worry about the possible delays for Tesla's Model 3.