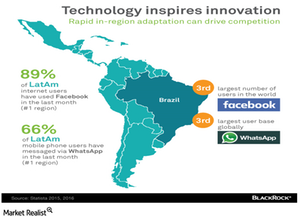 How Is Technology Connecting Lives in Latin America?
By Armando Senra

Jun. 29 2016, Published 4:04 p.m. ET
The wheels are already turning
The Colombian cyclist Nairo Quintana is a podium finisher at the world's most famous bike races including the Tour de France and Giro d'Italia. But growing up in the Andes, he had to ride almost 20 miles roundtrip on a second-hand bike to a school that was 3,000 feet below in elevation because his family could not afford to pay for bus fare. Today, many Latin Americans still live in rural areas, but technology has made things easier for many. The Internet continues to lower information barriers, and rapid technology adoption is connecting remote villages and leaving fewer people out of reach. Case in point: As of 2015, smartphone user penetration for the region was at 39% and projected to reach 57% by 2019, according to eMarketer. If you drill down further, Latin America has both the highest penetration rate for Facebook (89% of Internet users) and WhatsApp (66% of mobile phone users), as Statista data shows.
Article continues below advertisement
Market Realist – Technology helps connect people
Mobile penetration
Statista data show that the mobile penetration rate in Latin America reached a new high of about 126% in 2015. World Bank data reveal that mobile penetration in Argentina is 145%. In Chile, it's 152%.
Brazil (EWZ) has a population of 200 million and more than 240 million SIM (Subscriber Identity Module) connections. That's one of the highest SIM-to-subscriber ratios in the world. This phenomenon is prevalent, although to varying degrees, in other Latin American (EWW) countries.
Connecting people
Companies such as Facebook (FB), WhatsApp, and Moovit are clear examples of technology that's connecting people despite location. For many of these companies, Latin America is a key strategic market.
Around 200 million users in Latin America are on Facebook, comprising close to 20% of its global user base. Moovit has more than 30% of its customer base in the region, while the WhatsApp user base accounts for close to 38% of its global customer base.
In fact, Argentinians and Brazilians hold the record for spending more time on social media networks per month than anyone else in the world.