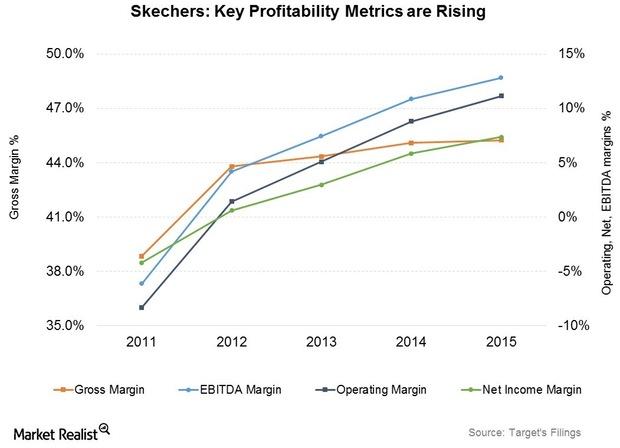 Why Skechers Expects Rising Profitability and Margins in 2016
By Phalguni Soni

Nov. 22 2019, Updated 5:53 a.m. ET
A steady rise for Skechers
Skechers (SKX) has been able to steadily increase its profitability and margins over the past five years. The company's net income margin rose from -4.2% in 2011 to 7.4% in 2015.
Skechers' EBITDA (earnings before interest, tax, depreciation, and amortization) margin also rose from -6.1% in 2011 to 12.8% in 2015.
Article continues below advertisement
Improving domestic wholesale channel economics
Besides the high sales growth that boosted both its top and bottom lines, Skechers' domestic wholesale segment's profitability has steadily risen and has been a key earnings driver for the company.
The domestic wholesale segment's gross margin came in at 38.6% in 2015, a rise from 27% in 2011. The company's overall gross margin rose more or less in step with the domestic wholesale segment's results, coming in at 45.2% in 2015, a rise of 640 basis points from 38.6% in 2011.
Lower discounting activity and rising sales (XLY) prices over the years have contributed to the segment's higher profitability. Skechers' higher product sell-through over the years has helped it to maintain its margins. As explained earlier, SKX became the second-largest company by market share in the US athletic footwear industry (IWR) last year.
Skechers has also been able to employ general and administrative expense leverage, as its sales base has grown. However, as its product lines have expanded and its marketing agendas have increased, its selling expenses have also risen, outpacing its sales growth in the last three fiscal years.
Article continues below advertisement
Profitability outlook
For 2016, Skechers is projecting another 100 basis points of overall gross margin expansion. Higher selling prices and sales mixes in both the US and international markets are expected to boost SKX's margins, although adverse currency movements in international markets may result in lower-than-expected profitability.[1. Based on guidance provided by David Weinberg, chief financial officer and chief operating officer of Skechers]
Skechers earned a gross margin of 45.2% in 2015, almost the same as Deckers Outdoors' (DECK) gross margin in its latest fiscal year. In contrast, Nike's (NKE) gross margin came in at 46% in fiscal 2015, and Adidas' (ADDYY), Crocs' (CROX), and Wolverine Worldwide's (WWW) gross margins were 48.3%, 46.8%, and 39.1%, respectively, in 2015.
Skechers' operating income margin is also expected to expand in 2016 to range between 12.5% and 14%, a rise from 11.1% in 2015. The company's shift toward a franchise model in certain markets, particularly in China, is expected to positively affect its earnings.