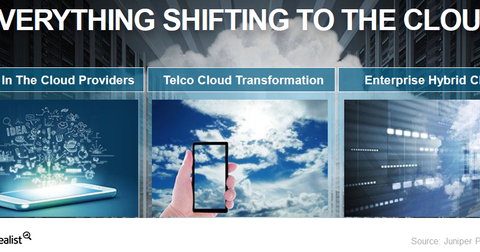 Why the Shift to Cloud Computing Is One of Juniper's Key Drivers
By Adam Rogers

Updated
Cloud computing
The cloud has started to become an important growth driver for companies such as Cisco Systems and Juniper Networks (JNPR). According to a Cisco report, more companies are now looking to connect private and public clouds with a focus on network security.
Article continues below advertisement
Juniper is optimistic about the cloud trend
Juniper CEO Rami Rahim said "It is now more evident than ever that everything is shifting to the cloud. Enterprise IT is moving apps and data to public and hybrid clouds. Service providers are building out a distributed telco cloud to drive down operational cost, increase agility and better serve their customers."
Juniper's top ten customers include five from the telecom space and five from the cloud segment. Customers "born in the cloud" understand the value that the cloud delivers. Telecom companies such as US-based (SPY) AT&T (T), Verizon (VZ), and T-Mobile (TMUS) are transforming their networks by moving from legacy networks to the next-generation cloud.
Smaller enterprises are expected to migrate to the cloud over time. On the other hand, Juniper expects large businesses to split applications between private and public clouds. The key challenge for Juniper will be to help these businesses transition seamlessly to public and hybrid cloud architectures.
The cloud market is highly concentrated and rapidly growing. Synergy Research Group estimates that 1Q16 cloud infrastructure service revenues have surpassed the $7 billion mark.
The United States continues to account for almost half of the cloud and Internet data centers market, according to another Synergy report. This is surprising, considering that the demand for cloud services is worldwide. However, this situation could change as all the major cloud players plan to open several data centers in Europe and Asia.