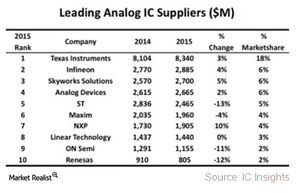 The Semiconductor Industry's 2016 Outlook Spells Bad News for ADI
By Puja Tayal

Jun. 21 2016, Updated 10:04 a.m. ET
Semiconductor industry's 2016 outlook
In the previous part of this series, we saw that Analog Devices' (ADI) stock is likely to rise if Apple's iPhone 7 replicates the success of the iPhone 6s and 6s Plus. Overall, the semiconductor industry's growth was slow in 2015, affecting giants such as Intel (INTC) and Qualcomm (QCOM). ADI was no exception.
Let's look at broader industry estimates to understand which factors could favor or deter ADI's future growth.
Article continues below advertisement
According to the most recent industry forecast released on June 7, 2016, WSTS (World Semiconductor Trade Statistics) expects global semiconductor revenue to fall by 2.4% YoY (year-over-year) to $327 billion in 2016, with strong falls expected in memory and logic chips. Analog integrated circuit (or IC) growth is expected to slow from 1.9% YoY in 2015 to 1% YoY in 2016.
On the other hand, IC Insights forecasts that the analog market will grow by 4% to $49.1 billion in 2016 and reach $51.4 billion in 2017.
Analog ICs convert radio and analog signals into digital formats and are used in all electronic equipment with signals, including personal computers (or PCs), smartphones, and wireless and wired communications. With the emergence of IoT (Internet of Things) technology, the analog IC market has expanded to cars, watches, and home and industrial automation.
Analog IC market
The analog IC market was dominated by Texas Instruments (TXN) with an 18% market share in 2015, according to IC Insights. Texas Instruments was followed by Infineon, Skyworks Solutions (SWKS), and ADI in the second, third, and fourth positions, respectively.
STMicroelectronics slipped from the second position in 2014 to the fifth position in 2015 due to weak demand in the PC consumer market. Meanwhile, Skyworks climbed from fifth to third due to increased content in Apple's iPhone 6. Moreover, the company successfully diversified into the automotive, home, and wearables markets.
While competition is strong for ADI in other end markets, its unique analog IC, which enables 3D Force Touch, sets it apart in the consumer space. This IC is used in the Apple Watch, the iPhone, and the iPad. In this way, ADI is highly sensitive to Apple's earnings.
Apple's iPhone 7 could help ADI to outperform the semiconductor industry, provided the device replicates the success of the iPhone 6s and 6s Plus.
The iShares Russell 1000 Value ETF (IWD) has holdings in large-capitalization US equities across various sectors. It has 0.02% exposure to ADI, 1.4% to INTC, and 0.68% to QCOM.