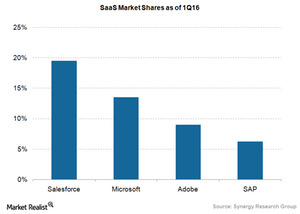 Why Did Salesforce Partner with Amazon?
By Puneet Sikka

Jun. 7 2016, Updated 10:07 a.m. ET
Salesforce looks to expand with Amazon partnership
In the prior parts of the series, we discussed Amazon's (AMZN) leadership position in the cloud services market. Another cloud player, Salesforce (CRM), recently announced its partnership with Amazon, saying that Amazon is "its preferred public cloud infrastructure provider."
According to Salesforce's press release, "For the first time, we'll be able to deliver our core services—including Sales Cloud, Service Cloud, App Cloud, Community Cloud, Analytics Cloud and more—for our international infrastructure expansion. This will enable us to bring new infrastructure online more quickly and efficiently in select international markets."
Article continues below advertisement
Microsoft, Adobe, and SAP are growing faster than Salesforce in SaaS market
The cloud services market has three major segments: SaaS (software-as-a-service), PaaS (platform-as-a-service), and IaaS (infrastructure-as-a-service). Salesforce (CRM) continues to lead the SaaS market. According to a report from Synergy Research Group, and as the chart above shows, Salesforce's share in the SaaS market was about 15% as of 1Q16.
Salesforce's revenue growth rate was 21% in the last quarter, but Microsoft (MSFT) grew at a much faster rate of 70%. Adobe (ADBE) and SAP (SAP) are the third and fourth ranked players in this market, but they both grew over 50%. Salesforce's slower growth compared to competitors makes its continued leadership uncertain.
Through its partnership with Amazon, Salesforce hopes to expand internationally at a much faster rate. We discussed in the previous part of the series that Amazon is looking to expand its AWS service at a rapid rate across the different regions of the world. Salesforce can leverage Amazon's growth to grow its own cloud business. According to SEC filings for 1Q16, Salesforce could be paying Amazon $400 million for this partnership spread out over four years.