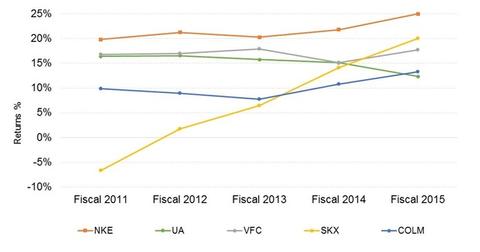 Returns Performance: The Rise of Skechers' Stock
By Phalguni Soni

Updated
Skechers' key returns metrics are on the rise
After being a loss-making company in 2011, Skechers (SKX) has engineered a resurgence in financial performance from 2012 to the present. Its return on equity (or ROE), return on invested capital (or ROIC), and return on assets (or ROA) have steadily climbed into positive territory.
The company's exponential top line growth (IWP) and margin expansion have led to its improved financial performance. Skechers has undertaken little recourse to external debt, implying there may be gas in the tank to fuel further growth in the years to come.
Skechers earned an ROIC of 20% in 2015, surpassing the returns earned by prominent peers Under Armour (UA), VF Corporation (VFC), and Columbia Sportswear (COLM). However, Nike (NKE) managed to stay ahead of these companies, clocking an ROIC of 25% in fiscal 2015 ended May 31, 2015.
Article continues below advertisement
Skechers' stock price and returns performance
In the last five years, Skechers' stock price has been the best performer among the competitor companies under consideration. From May 31, 2010, to May 31, 2016, Skechers' stock rose more than 430% compared to 363% for UA and 179% for NKE.
Skechers' total return over the past five years averages 39.9%, compared to 35.9% for Under Armour, 22.2% for Nike, and -10.4% for Deckers Outdoors (DECK). In comparison, returns came in at 16.3% for the overall footwear and accessories industry (XLY) and 11.7% for the S&P 500 Index (SPY) (IVV) (VOO) over the same period.[1. Source: Morningstar, computed on a monthly compounding basis as of May 31, 2016].
While growth stocks (IWF) SKX and UA don't pay dividends yet and aren't likely to for some time, NKE and VFC were trading at forward dividend (VIG) yields of 1.1% and 2.4%, respectively, on May 31, 2016.
Skechers' free cash flow–generating (or FCF) capacity has also risen, and the company is using its surplus cash for financing growth. The company generated FCF of $114 million in 2015, a rise from -$55.7 million in 2011. Skechers' strong earnings performance over the past few years has boosted its FCF.