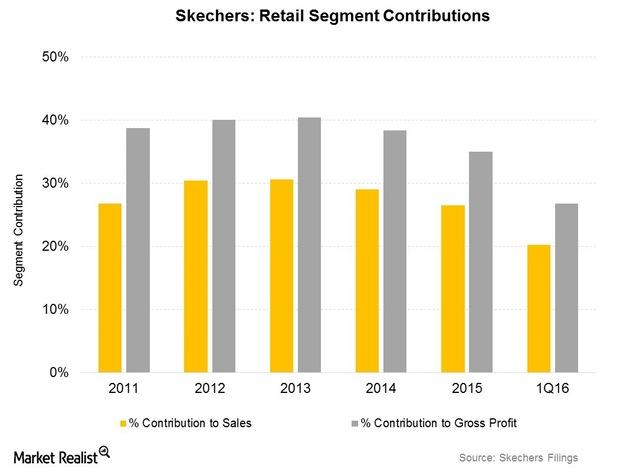 How Skechers Strategizes Its Product Sell-Through
By Phalguni Soni

Nov. 22 2019, Updated 5:54 a.m. ET
An overview of Skechers' retail segment
Athletic footwear brand Skechers (SKX) operates around 525 company-owned retail stores around the world. Of these, around 395 are located in the United States.
Skechers also operates several country-specific e-commerce sites. Sales from owned retail stores and e-commerce websites are reported under Skechers' retail segment.
Article continues below advertisement
Retail formats
Skechers operates its retail stores in three formats:
concept stores
factory outlet stores
warehouse outlet stores
Concept stores typically average 2,400 square feet in size. They're located in prominent high street and mall locations, and they exhibit the best and newest product lines.
Concept stores also provide the customer with a complete brand and product experience, which is often not found at stores operated by other retailers. Typically, third-party retailers offer customers less than 5% of Skechers' products at any given point in time. At the end of 1Q16, Skechers operated 200 concept stores, 118 of them in the United States.
Sized between 1,000 and 9,000 square feet, Skechers' factory outlet stores enable it to dispose of excess inventory or discontinued lines. While most products are sold at mark-offs, factory stores also help the company to sell old but still popular products at full price.
These stores help Skechers to stave off excessive discounting that could result through sales via other channels. They also help the company maintain its brand image. At the end of 1Q16, Skechers operated a total of 199 factory stores, of which 156 were located in the United States.
Skechers' warehouse outlet stores, which numbered 126 at the end of 1Q16, are considerably larger than its factory outlet stores. They are sized between 4,400 and 30,000 square feet. They also sell excess inventory at discounts and help to maintain the newness of products at concept stores, ensuring healthy product flow-through.
Retail expansion
At the end of its last year, Skechers' retail (XRT) (RTH) door count came in at 517, compared to 191 for Under Armour (UA), 931 for Nike (NKE), 363 for Lululemon Athletica (LULU), and 155 for Deckers Outdoors (DECK). Skechers opened 36, 59, and 68 net new stores in 2013, 2014, and 2015, respectively. It plans to open 55–65 new stores in 2016.
Despite the aggressive expansion in Skechers' retail footprint over the last three years, its retail segment's contribution to its revenue and gross profit has been falling. This is largely due to the even more explosive growth in its number of wholesale doors, particularly in international markets such as China.
We'll analyze the segment's financial performance and profitability drivers in the next article.