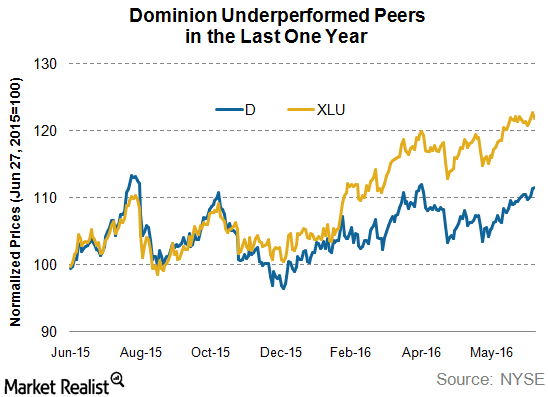 Why Dominion Resources' Rally Might Not Be Done Yet
Valuation
The Brexit rally in utilities could push their valuations up. So far, they already soared more than 15% this year. They also have towering valuations. Let's look at how Dominion Resources (D) is valued among peers.
On June 28, 2016, Dominion Resources was trading at an EV-to-EBITDA (enterprise value to earnings before interest, tax, depreciation, and amortization) valuation of 14.4x. Surprisingly, Dominion is still looking marginally undervalued compared to its own five-year historical EV-to-EBITDA multiple of 15x.
Article continues below advertisement
Dominion versus its peers
Currently, the average EV-to-EBITDA multiple of peer utilities is 11.2x. Duke Energy (DUK) and American Electric Power (AEP) are trading at valuation multiples of 10.8x and 10.3x, respectively.
The forward EV-to-EBITDA multiple considers the current EV and EBITDA estimates for the next 12 months. Dominion's forward EV-to-EBITDA multiple is 12.3x. Since its forward multiple is lower than its current multiple, we can expect that Dominion's EBITDA might be higher later in 2016.
PE ratio
Dominion's PE (price-to-earnings) ratio is at 22.2x, while the industry average is around 21x. Duke Energy and AEP's PE ratios are 18.9x and 20x, respectively.
Given its market performance during the past six months, Dominion has rallied by nearly 15%. During this period, Duke and AEP Energy Group also soared by ~20%. It will be interesting to see how long the rally in utilities lasts. Steep valuations are one of the major concerns for utility investors. However, factors supporting their rally aren't easing up. Therefore, an expected rate hike from the Fed or lower-than-expected 2Q16 earnings would lead the way for utilities (XLU).