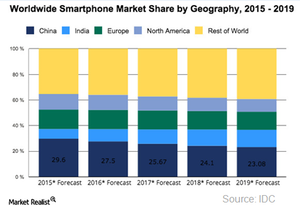 Why Did Qualcomm File a Patent Lawsuit Against alibaba-Backed Meizu?
By Puja Tayal

Updated
Lost licensing revenue from China
In the previous part of this series, we discussed how Qualcomm (QCOM) has been looking to recover its lost licensing revenue after it settled antitrust issues with China's NDRC (National Development and Reform Commission) in February 2015. It has been renegotiating licensing deals with Chinese (FXI) handset makers under the revised terms as agreed by the NDRC.
Qualcomm claims to have signed new deals with over 100 Chinese handset makers, including the top five vendors: Huawei, Xiaomi, Lenovo, ZTE, and TCL. But Meizu refused to sign a licensing deal, and so Qualcomm filed a patent lawsuit against Meizu in the Beijing Intellectual Property Court.
Article continues below advertisement
Details of Qualcomm's patent lawsuit
Qualcomm stated that it approached Alibaba-backed (BABA) Meizu to sign a licensing deal, but the handset maker refused to come to a negotiation. Qualcomm executive general counsel Dan Rosenberg said, "Meizu is choosing to use these technologies without a license, which is not only unlawful but unfair to other licensees that act in good faith and are respectful of patent rights, and ultimately damaging to the mobile ecosystem and consumers."
In response, Meizu Vice President Li Nan stated on his official WeChat page that the company was willing to resume discussions.
Under the formal complaint, Qualcomm has asked the court to confirm that it has a right to get a licensing fee from Meizu as per the agreement signed with the NDRC. According to the revised terms, Qualcomm has the right to charge a licensing fee from Chinese handset makers using its technology in phones sold in China. However, it would charge a certain percentage as the licensing fee on 65% of the net selling price, instead of 100% of net selling price.
Article continues below advertisement
According to IDC (International Data Corporation), Meizu shipped 24.82 million devices in 2015, making it the eighth-largest smartphone vendor in China. This makes Meizu the largest customer who has not paid the licensing fee. If the court decides in Qualcomm's favor, it would significantly boost the company's revenue.
However, the possibility of Qualcomm winning the case looks bleak because Chinese authorities are unlikely to take action against domestic companies, several manufacturers of which do not take patents and licensing seriously.
China hit by a wave of patent lawsuits
The Qualcomm-Meizu dispute is the latest in the patent lawsuit wave that has hit China. A Chinese startup Shenzhen Baili won a design patent case for Apple's (AAPL) iPhone 6 and iPhone 6 Plus. Huawei sued Samsung (SSNLF) for infringement of 11 of its mobile patents.
Now let's look at the impact of the Meizu case on Qualcomm's earnings.