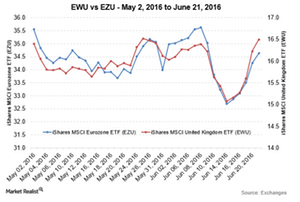 Bremain Campaign Leads Slightly: Pros and Cons of the Brexit
By David Meyer

Updated
Polls lean slightly towards no Brexit, UK markets get a boost
The UK referendum hangs in balance even as opinion polls indicate that the UK (United Kingdom) could stay in the EU (European Union). The British pound gained on the US dollar with speculations that the British currency could rally if the Brexit does not take place. The Bremain campaign, which is for Britain remaining in the EU, had a 7% lead in the latest polls. The iShares MSCI United Kingdom ETF (EWU) was trading on a positive note on June 21, along with the iShares MSCI Eurozone ETF (EZU) and the SPDR Euro STOXX 50 ETF (FEZ). The WisdomTree Europe Hedged Equity ETF (HEDJ) and the Vanguard FTSE Europe ETF (VGK), which are also European ETFs, gaining by more than 1% during the day.
Article continues below advertisement
Pros of the Brexit
By leaving the EU, the UK could become more competitive in trade deals with other countries and grow its manufacturing sector. It is expected that if Britain were free of regulations and control, it could be more autonomous in its policies. Citizens also feel that the UK would be more able to deal with the immigration crisis by following its own practices rather than depending on the EU. The control over immigration could lead to more jobs in the economy and reduce the unemployment rate.
Cons of the Brexit
The biggest setback for Britain could be the effect on trade pacts with the EU. The UK is heavily dependent on exports and imports of EU nations. However, it would be free to establish new agreements with the union. Also, there may be a negative effect on the British economy, as the UK might suffer from low investments and a reduced labor force due to stringent immigration laws.