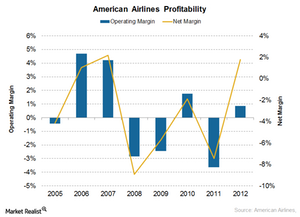 Just How Profitable Is American Airlines?
By Ally Schmidt

Updated
Profits rose after AAL's bankruptcy
As we've already seen, American Airlines (AAL) had heavy losses before applying for bankruptcy. It had operating losses in seven of the ten years before bankruptcy and made net losses in eight of those ten years. It turned profitable only in peak economic periods in 2006 and 2007.
However, it managed to turn green in 2012 due to heavy cost restructuring. It had an operating margin of 0.86% and a net margin of 1.8%. In 2013, as the merger benefits started accruing, profitability increased. AAL now has an operating margin of 6.7% and a net margin of 5.0%.
In 2014 and 2015, AAL and the entire airline industry experienced historically high profitability due to the extreme decline in fuel costs. AAL's operating margin increased to 11.6% in 2014 and 19.3% in 2015. Net margins increased to 8.8% in 2014 and 15.3% in 2015.
AAL has one of the highest margins in the industry, although it's lower than Allegiant Travel's (ALGT) 2015 net margin of 17.5%. Delta Air Lines (DAL) and United Continental (UAL) had net margins of 9.2% and 11.9%, respectively, in 2015.
Article continues below advertisement
How long can the party last?
The airline industry is cyclical and broadly tracks Market performance. We're currently in a situation of growing global turmoil and a weakening credit market. In this scenario, profitability is viewed as unsustainable by most investors.
Analysts are also estimating that the airline cycle has peaked. So they don't expect airlines to see significant incremental benefits from fuel costs. However, the greater risk is from increasing crude oil prices and whether the airlines can pass them on or not.
Fuel prices have declined tremendously, but it's only a matter of time before crude oil bounces back. AAL might end up the biggest loser if oil prices rise substantially due to its no-hedging policy, especially if it can't pass the prices on to its customers.
You can gain exposure to airlines by investing in the PowerShares Dynamic Leisure & Entertainment ETF (PEJ), which invests ~30% in airline stocks.
Now let's take a look at American Airlines' renewed AAdvantage program.