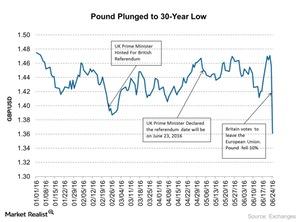 The British Pound after Brexit: Inside the Astounding 30-Year Low
By Sarah Sands

Aug. 18 2020, Updated 5:25 a.m. ET
The British pound
On December 18, 2015, the United Kingdom Prime Minister, David Cameron began hinting at a referendum as to whether or not the UK would continue to stay in the EU. On February 22, 2016, Cameron announced that the referendum would be held on June 23, 2016. As these events took place, volatility in the British pound increased. Then on Friday, June 24, when the results were in—and when it was announced that UK would, in fact, exit the EU—the pound fell to a 30-year low.
Notably, Jared Dillian, an investment strategist at Mauldin Economics, has a unique view on the pound's movement. Read "Jared Dillian Says a Brexit Could Boost the Pound: Here's Why?" to know why Jared Dillian thinks the UK's "Brexit" could ultimately boost the pound.
Article continues below advertisement
From February 22, 2016, to February 29, 2016, the British pound fell by almost 3% against the US dollar (UUP), which showed nervousness as the UK's referendum date approached. After that, the pound slowly recovered, but its volatility remained high. Then, from June 8, 2016, to June 14, 2016, the pound again started falling against the US dollar, only to recover one week before the "Brexit" referendum.
A 30-year low
Now, with the referendum results in, the situation is different. The pound has fallen nearly 10% against the US dollar, dragging the former currency to a 30-year low. On June 24, 2016, the pound touched a low of $1.32 after the announcement that the UK would leave the EU.
Notably, The euro (FXE) also fell by nearly 3.5% against the US dollar the same day, touching a low of $1.09 on the same day. To be sure, the fall of the pound at such a high rate indicates that investor confidence in the economy is trembling.
In the next part, we'll analyze the advantages the UK (EWU) would retain if it remains in the European Union (HEDJ) (VGK).