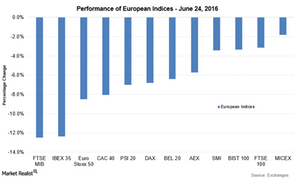 Post-Brexit Repercussions in Europe
By David Meyer

Updated
Scottish members raise warnings
With respect to the June 24 Brexit vote, business leaders across Scotland have asked how future trade agreements will be decided. A significant portion of the country's population voted for Britain (EWU) to remain in the European Union (HEDJ) (HEZU) (VGK). There may be a fresh referendum in Scotland to exit the British pound.
Article continues below advertisement
David Cameron resigns after the Brexit vote
Some leaders hailed the decision for Britain to leave the EU—Brexit—as being similar to an independence day. Brexit won with 52% of the votes. However, this referendum has been a political earthquake for the UK. Jo Cox, the UK Labour Party MP who favored the Remain campaign, was shot and killed on Thursday, June 16.
David Cameron, the UK prime minister, announced that he would resign from his duties in October 2016, when a new prime minister could be appointed. The referendum was called by Cameron as a political way to soothe conservative supporters.
On the other hand, German chancellor Angela Merkel stated that the vote was "a watershed moment for Europe."
Post-Brexit impact
The US dollar and its markets benefited significantly from Britain's decision to exit the EU. Gold prices have also been rising sharply as investors look for safe-haven assets.
There was a huge sell-off in the FTSE 100 as the index fell by more than 3% on June 24. Major European markets like the DAX, the CAC 40, and the Euro Stoxx 50 were trading in negative territory on June 24. The iShares MSCI Germany ETF (EWG) and the iShares MSCI France ETF (EWQ) also saw losses during the day.