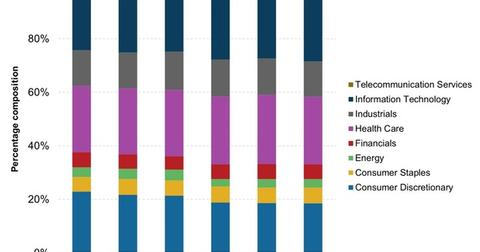 Portfolio Moves of the Waddell & Reed Advisors Global Growth Fund until YTD 2016
By David Ashworth

Jun. 25 2016, Published 5:32 a.m. ET
Waddell & Reed Advisors Global Growth Fund overview
The Waddell & Reed Advisors Global Growth Fund (UNCGX) looks for companies that "are competitively well-positioned, gaining market share, have the potential for long-term growth and/or operate in regions or countries that possess attractive growth characteristics."
The Waddell & Reed Advisors Global Growth Fund (UNCGX) generally invests in large-cap companies, but it is not restricted to those companies. It can invest in companies of any size.
The fund manager would aim to invest at least 40% of the fund's assets in stocks of foreign issuers. Fund management blends bottom-up stock selection with a top-down global economic analysis.
The fund's assets were spread across 47 holdings in May 2016 and was managing $645.5 million in assets. In March, its equity holdings included Level 3 Communications (LVLT), MasterCard (MA), TripAdvisor (TRIP), Anheuser-Busch InBev (BUD), and ASML Holding (ASML).
Article continues below advertisement
Portfolio changes in the Waddell & Reed Advisors Global Growth Fund
Healthcare and information technology are key sectors for the UNCGX, as each forms over a quarter of the assets. Combined with the consumer discretionary sector, the top three sectors account for 70% of the assets. The fund is not invested in the materials and utilities sectors.
UNCGX is not a typical international fund, as 61% of its assets are invested in US stocks. China is a distant second, forming 9.3% of the assets. Germany, France, and the United Kingdom, in that order, round off the top five invested countries.
Compared to May 2015, exposure to healthcare has increased from one-fifth to one-fourth of the total portfolio. Information technology stocks have also seen their portfolio weight increase from a year ago.
On the other end of the spectrum are consumer-related sectors, and exposure to both has declined in the past 12 months. While exposure to financials had stood at 11% intra-period, it is now down to ~5%.
How has the Waddell & Reed Advisors Global Growth Fund – Class A (UNCGX) fared in YTD 2016? Let's look at that in the next article.