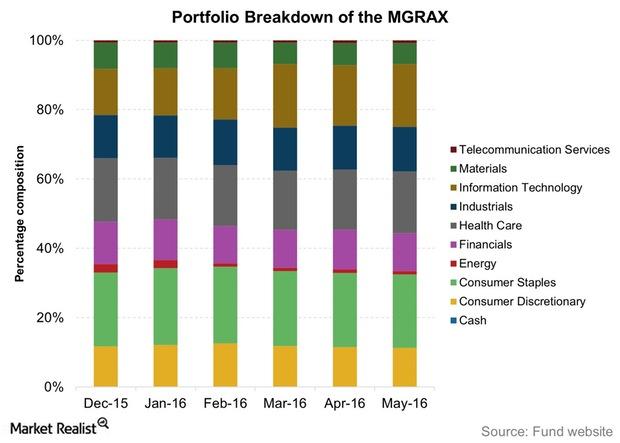 Portfolio Moves of the MFS International Growth Fund through YTD 2016
MFS International Growth Fund overview
The MFS International Growth Fund (MGRAX) invests in "well-run non-U.S. businesses capable of generating sustainable growth." The fund managers look for companies with strong fundamentals, superior management, and a sustainable competitive advantage.
The fund can invest a large portion of its assets in issuers from a single country, group of countries or region. The fund invests across market caps and employs the bottom-up approach to stock selection.
Article continues below advertisement
Portfolio changes in the MFS International Growth Fund
Unlike most other funds in this review, the most invested sector of the MGRAX is consumer staples, which it forms a little over one-fifth of the fund's assets. Information technology is a close second, followed by healthcare. These three sectors command 57% of the portfolio. The fund is not invested in the utilities sector.
Excluding the United Kingdom, stocks from Europe, spanning nine nations, account for 47.5% of the portfolio. UK stocks form 17% of the portfolio – the largest invested country. France and Switzerland follow. Meanwhile, US stocks form 4.4% of the assets.
Exposure to consumer staples has been increased gradually over the past 12 months. In the same period, exposure to financials has decreased gradually. Exposure to healthcare has been increased while the exposure to industrials has decreased.
Sectors that have seen a sharp change in portfolio weight are information technology and energy. While exposure to the former has been stepped up, the exposure to the latter has decreased sharply.
How has the MFS International Growth Fund – Class A (MGRAX) fared in YTD 2016? Let's look at that in the next article.