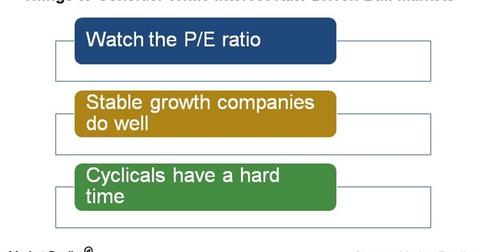 Portfolio Construction in Interest Rate–Driven Bull Markets
By David Ashworth

Jun. 13 2016, Published 7:41 a.m. ET
Multiple rises in falling interest rate scenarios
The PE (price-to-earnings) ratio, also known as the price or earnings multiple, rises when interest rates are falling. Calling this "virtually a mathematical tautology," Richard Bernstein, in his monthly "Insights" newsletter for June 2016, explained that the PE ratio rises when longer-term interest rates are falling due to the present value theory.
In a falling interest rate environment, the PE ratio rises because investors are keen to increase the time horizon of their investments. When interest rates are falling, not many short duration investments can provide healthy returns.
Article continues below advertisement
What's driving your PE ratio?
Like with every ratio, the PE ratio has two components—current price in the numerator and earnings per share of either the past or future four quarters in the denominator. This means that a PE ratio could rise for two reasons:
a rise in price with the denominator remaining the same
a decline in earnings with the price remaining the same
It's important to ensure that the stocks you're invested in at either the beginning or during a bull run have expanding price multiples due to a rise in price rather than a decline in earnings.
Portfolio construction 
Apart from looking at what's driving your PE ratio during a falling interest rate environment, you should also look at the type of companies and industries that you're invested in.
According to Richard Bernstein, "Stable growth companies tend to outperform cyclical companies" when interest rates are falling. Declining interest rates point to slow nominal growth. This isn't good for cyclical companies' earnings. Automakers (GM) (FCAU), airline stocks (AAL) (LUV), and hotels (HLT) (MAR) are good examples of cyclical stocks.
Explaining his point further, Richard Bernstein said that stock prices rise for stable companies. For cyclical companies, earnings decline when interest rates are falling.
After this advice on stock investing (FVD) (EKJAX) during falling interest rates, let's look at what Richard Bernstein had to say about portfolio construction during earnings-driven bull markets.