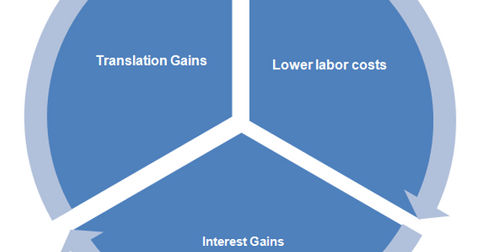 Which Biotechnology Companies Could Benefit from Brexit?
By Margaret Patrick

Updated
Brexit benefits
The Brexit referendum has resulted in increased economic uncertainty around the world. However, since healthcare spending falls in the non-discretionary category, it is considered to be a safe haven option for global investors.
In the face of the depreciating British pound, investors in the United Kingdom's cyclical stocks may opt to shift into biotechnology, pharmaceutical, and other healthcare stocks. This is expected to boost share prices of the VanEck Vectors Biotech ETF (BBH) in the long term.
Article continues below advertisement
Translation gains
While the weak pound is expected to negatively affect biotechnology companies with a high revenue exposure to the United Kingdom such as Alexion Pharmaceuticals (ALXN) and Celgene (CELG), it may prove beneficial for companies such as GlaxoSmithKline (GSK) and AstraZeneca (AZN), which report their financial results in the pound. In 2015, GlaxoSmithKline and AstraZeneca earned approximately 88.1% and 71.5% of their total revenues, respectively, from markets outside of Europe. With a significant portion of their revenues exposed to markets outside the United Kingdom, the depreciating pound is expected to be beneficial for these companies through translation gains.
Lower labor costs
Pharmaceutical companies with manufacturing plants in the United Kingdom may benefit in the short term due to the weak pound. While these benefits are limited for companies that hedge their currency exposures, they may have a positive impact on the financial results of companies that report their financial results in the pound. In the long term, however, Brexit may raise these companies' labor expenses as cheap workers from East European countries are replaced by British citizens, who may demand higher salaries.
Interest gains
Multinational pharmaceutical and biotechnology companies with bank loans denominated in pounds may witness a temporary respite in interest payments, limited to the extent they left their currency exposure unhedged. In the next article, we'll see how Brexit could affect the research and development of pharmaceutical and biotechnology companies operating in Europe.