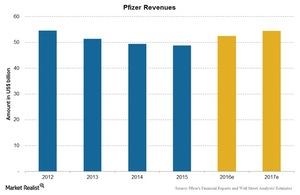 How Pfizer Continues Its Organic and Inorganic Growth
By Mike Benson

Jun. 30 2016, Published 1:21 p.m. ET
Pfizer acquires Anacor Pharmaceuticals
Pfizer (PFE) completed the acquisition of Anacor Pharmaceuticals (ANAC) on June 23, 2016. The acquisition will strengthen Pfizer's portfolio of inflammatory disease products, and Anacor will be a wholly-owned subsidiary of Pfizer. We'll look at this acquisition in detail in the following parts of this series.
Article continues below advertisement
1Q16 performance
Pfizer's top line improved by 20% to ~$13.0 billion for 1Q16. It was driven by an operational increase of ~26% and a negative currency impact of ~7%, including the impact of legacy Hospira operations.
Excluding Hospira, Pfizer reported a 15% growth in revenues for 1Q16. At constant exchange rates, the GIP (Global Innovative Pharmaceuticals) segment grew 25%. The Global VOC (Vaccines, Oncology and Consumer Healthcare) segment grew ~33%. The GEP (Global Established Pharmaceutical) segment grew by 24%, including Hospira operations.
Pfizer's growth is driven by its innovative pharmaceuticals business. That included GIP and VOC. The established pharmaceuticals business is more mature and seems to have secured its market share among competitors.
Pfizer reported a ~26% top-line growth at constant exchange rates during 1Q16. It was mainly driven by the inclusion of legacy Hospira operations and innovative products, including Prevnar 13, Ibrance, Lyrica, and Eliquis.
Year-over-year performance
Pfizer's revenues have declined year-over-year since 2012 due to the loss of exclusivity of many key products in its portfolio. The company reported a 2% decline in revenues for 2015 at $48.9 billion. It also saw a negative trend of 3.8% in 2014 and a 5.6% decline in 2013.
The declines were mainly due to the expiration of patents for key products such as Viagra, Celebrex, Zyvox, Lyrica, and Lipitor. Revenues were also affected by the expiration of the Enbrel and Spiriva collaboration.
However, after the Hospira acquisition in 2015, the company is expected to report 2016 revenues of more than $51.0 billion, an increase of more than 5%.
To diversify risk, investors can consider ETFs such as the iShares US Pharmaceuticals (IHE), which holds ~8.9% of its total assets in Pfizer, 6.9% in Bristol-Myers Squibb (BMY), 3.2% in Mylan (MYL), and 5.2% in Allergan (AGN).