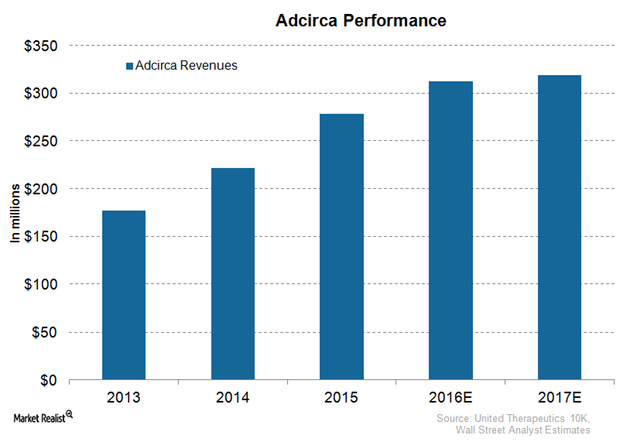 Why United Therapeutics' Adcirca Could Witness Strong Revenue Growth
By Margaret Patrick

Jun. 21 2016, Updated 11:06 a.m. ET
Adcirca drug
After acquiring commercial rights from Eli Lily (LLY) in 2008, United Therapeutics (UTHR) started marketing Adcirca in the US in 2009. Adcirca is administered orally to pulmonary arterial hypertension (or PAH) patients belonging to the WHO Group 1 category. The drug is a PDE-5 inhibitor and contains tadalafil as its active ingredient.
According to United Therapeutics' 10k filings, "Patients with PAH have also been shown to have reduced levels of the enzyme responsible for producing NO, a naturally occurring substance in the body that causes relaxation of the pulmonary blood vessels. NO produces this effect by increasing intracellular levels of cyclic GMP. Therefore, another established therapeutic approach has been to inhibit the degradation of cyclic GMP using drugs known as PDE-5 inhibitors."
Wall Street analysts expect that in 2016, Adcirca sales will rise YoY (year-over-year) by about 12.1% and reach approximately $312.4 million. Adcirca accounted for 19% of United Therapeutics (UTHR) total revenues in 2015.
Article continues below advertisement
Competition
Adcirca faces competition from prostacyclin analogues such as Remodulin, Tyvaso, Orenitram, and GlaxoSmithKline's (GSK) Flolan. In September 2014, Gilead Sciences (GILD) managed to prove a higher efficacy of the combination therapy containing ambrisentan and tadalafil. Based on these results, the FDA (US Food and Drug Administration) updated Gilead Sciences' Letairis label, allowing it to be used in combination with tadalafil to reduce hospitalization of PAH patients. Adcirca also faces competition from Pfizer's (PFE) Revatio, the first PDE-5 inhibitor approved for the treatment of PAH.
Adcirca faces competition from generic versions of Revatio, after the latter's patent expired in 2012. The drug's sales may also face generic erosion after the expiration of other patents related to PAH in November 2017. In such a scenario, United Therapeutics may witness a negative impact on its share prices. This could also affect the First Trust NYSE Arca Biotechnology Index Fund (FBT). United Therapeutics makes up about 3.3% of FBT's total portfolio holdings.
Now let's analyze United Therapeutics' research pipeline in the PAH segment.