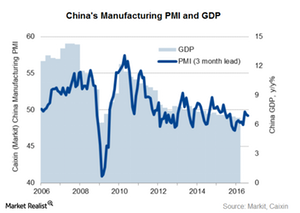 Are There Opportunities amid China's Manufacturing Slump?
By Lynn Noah

Nov. 20 2020, Updated 1:36 p.m. ET
Slump in the manufacturing sector
China's manufacturing sector has been plagued by weak demand, rising labor costs, overcapacity in industries, and tighter resource and environmental constraints. However, the Chinese government has pledged that it will step up its efforts to stabilize and restructure China's manufacturing sector.
Last week, policymakers released three plans to support the country's stagnant manufacturing sector. These plans included encouraging technological innovation and funding ten major manufacturing projects that will enhance competitiveness.
China aims to achieve over 7% annual growth in the manufacturing sector during the 2016–2018 period. The country also hopes to attract 15% more corporate investment, which will support upgrades, during the period.
However, the results of the government's efforts to revive the manufacturing sector may only be seen in the long term. Short-term investors may want to trim their exposures to the manufacturing sector.
Article continues below advertisement
Investment opportunities in China
China's (ASHR) (MCHFX) consumer and service sectors offer investment opportunities. China's young consumers are ready to spend on everything from fitness products to health foods to designer furniture, which will create good investment opportunities amid the country's broader economic slowdown.
Young consumers are more inclined to shop online, so e-commerce (NTES) (VIPS) (JMEI) will likely be a big business in China.
According to research from the Boston Consulting Group and AliResearch, the research arm of Chinese e-commerce company Alibaba Group Holding (BABA), "Spending by Chinese consumers aged 35 and younger is growing at 14% a year, double the rate of older consumers." The research says young consumers will account for 53% of China's total consumption by 2020, up from 45% in 2015.
China is here to stay, but caution prevails
2016 will likely be a challenging year for the Chinese economy. Although China's government is stepping up its efforts to revive the economy, how effective these measures will be remains to be seen.
For more updates and analysis on mutual funds, please visit Market Realist's Mutual Funds page.