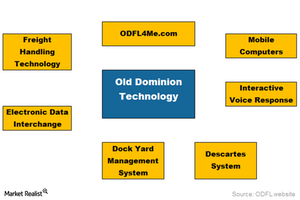 How Old Dominion's Technology Tools Are Carving out a Niche Position
By Samuel Prince

Updated
Old Dominion and technology
As technology improves a company's bottom line and enhances shareholder value, Old Dominion Freight Line (ODFL) banks on technology to curtail costs and maximize customer satisfaction. As such, ODFL clients gain access to improved shipment tracking, tailor-made reports, shipping documents, interactive bills of lading, and customized rate estimates for their specific pricing program.
Article continues below advertisement
Mobile computers
ODFL facilitates its freight and cargo shipping clients to manage shipments more efficiently. All the company's pick-up and delivery drivers carry mobile computers, which enable them to scan and capture real-time information during pick-ups and deliveries.
The collected information reveals details about the number and weight of pieces, as well as the origin and destination zip codes. This in-time information helps with higher direct loading and scheduling of line-haul power.
The Descartes System
The Descartes system allows consolidation and swapping of routes. In turn, the system enhances Old Dominion's productivity by ascertaining the manpower requirement and providing a detailed routing. This system also helps the company do the following:
determine what cargo needs to be worked first
ascertain what door to use for loading to maximize reduced transit times
provide maps for planned deliveries to customers
Article continues below advertisement
Dock Yard Management System
This technology keeps ODFL and its customers aware of the status of any freight or cargo shipment moving within the OD system at any given time. The Dock Yard Management System operates by using the bar code units located on each of the company's freight docks and in its switching tractors.
Freight handling technology
Old Dominion uses Garvey guns to mark all cartons individually with the same customer PRO number. This is done to ensure that freight arrives at its intended destination. The company uses moveable load bars to create multiple levels inside the trailer. This system allows improved freight protection from any possible damage. Air bags are used to help cushion freight from any possible damage. They are placed around shipments for added protection.
Article continues below advertisement
In the logistics industry, every nanosecond counts. United Parcel Service (UPS), which competes with ODFL on a small scale, uses the ORION (on-road integrated optimization and navigation) technology. This technology ensures that UPS's drivers use the most optimized delivery routes with consideration for time, distance, and fuel. FedEx (FDX) uses a self-developed route planning technology for. FDX has utilized this decision support and route optimization system since 2008.
ETFs
The SPDR S&P Transportation ETF (XTN) has the highest exposure among ETFs (~2.3%) to Old Dominion Freight Line. The trucking and railroad sectors make up 22.2% and 13.0%, respectively, of the portfolio holdings of XTN. Other major logistics companies included in XTN are FedEx (FDX), XPO Logistics (XPO), C.H. Robinson Worldwide (CHRW), and CSX Corporation (CSX).
In the next part, we'll discuss Old Dominion's growth risks.