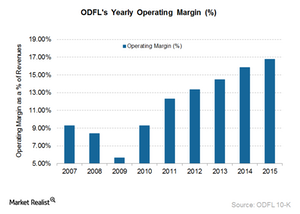 Why Old Dominion Lead's the Industry in Operating Margins
By Samuel Prince

Updated
Operating margins
Old Dominion Freight Line's (ODFL) tonnage levels and revenue mix are subject to seasonal trends common to the LTL industry. Its operating margins are typically lower in the first and fourth quarters of the year due to declines in shipments during winter months.
The graph below shows that the operating margins of the company have gradually gone up since 2009. The financial meltdown of 2008 took its toll on its operating margins in 2009. But the company has successfully improved its margins since then.
Article continues below advertisement
The key to enhanced operating margins lies in the line-haul transportation adapted by ODFL. Line-haul dispatchers monitor the cargo flow between service centers with an integrated cargo movement system. ODFL uses scheduled service routes and the additional line-haul dispatches required to meet its published transit times.
Why exactly are margins higher?
The major operating efficiency for ODFL comes through its use of twin 28-foot trailers in its linehaul operations. The use of such trailers allows the company to transport freight directly from the origin to the destination with the least amount of unloading and reloading. This approach results in reduced freight loss and damage expenses. Twin trailers and long-combination vehicles also allow ODFL to haul additional freight.
Moreover, the fuel expenses included in the operating supplies and expenses were range-bound in the past five years, thus improving margins for the company.
Peer group margins
A comparison among the companies in ODFL's peer group reveals why ODFL's operating margins stand out. From 2007 to 2015, Old Dominion's average operating margin was 11.7%. Below is a breakdown of ODFL's peer margins during the same period:
Notably, ODFL makes up 0.88% of the First Trust Industrials-Producer Durables AlphaDEX Fund (FXR). Railroads and airlines make up ~4.7% and 8.1%, respectively, of the portfolio holdings of FXR.
In the next part, we'll go through Old Dominion's capital spending in recent years.