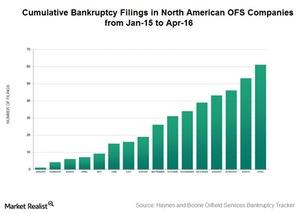 Why Is the Oilfield Service Space Battling Bankruptcy Fears?
By Alex Chamberlin

Jun. 13 2016, Published 5:40 p.m. ET
Bankruptcy fears plague OFS industry
According to Haynes and Boone, a US law firm, more than 60 oilfield equipment and services (or OFS) companies filed for bankruptcy in 2015 and in the first four months of 2016. In aggregate, these companies had accumulated $8.2 billion in debt. Among these, the largest and the more well-known OFS companies were:
Paragon Offshore, which filed for bankruptcy on February 14, 2016
Vantage Drilling, which filed for bankruptcy on December 3, 2015
Hercules Offshore, which filed for bankruptcy on August 13, 2015
The latest casualty in the OFS world is Seventy Seven Energy, which filed for bankruptcy on June 3. We'll discuss why Seventy Seven Energy filed for bankruptcy in the following part of the series.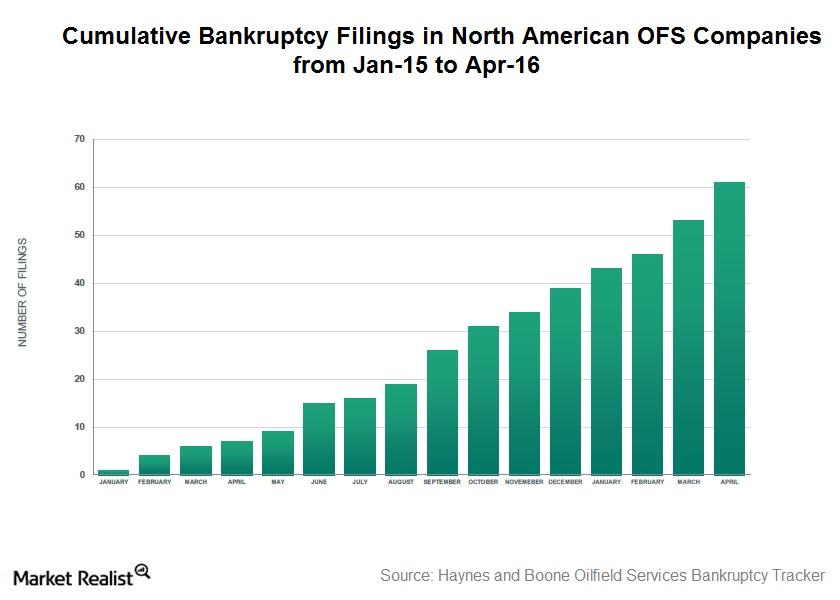 Article continues below advertisement
The companies that filed for bankruptcy had average debts of $156 million. According to Haynes and Boone, Vantage was the most leveraged with $2.7 billion of debt, closely followed by Paragon Offshore with ~ $2.5 billion of debt. In North America, Texas saw the highest number of OFS bankruptcy filing cases, followed by Delaware in 2015–2016.
Why the surge in OFS bankruptcies?
The OFS industry has been severely affected by upstream energy companies' capex cuts and reduced drilling activity. The entire energy sector has been under pressure from low energy prices. Energy prices, which started tumbling in mid-2014, are yet to recover to levels seen before this period. Crude oil prices are still lower by 53% since their June 2014 high. Upstream companies responded to the fall in prices by cutting rigs. Crude oil rigs are down 79% since October 2014.
Are more OFS companies at risk?
The lower rig count and reduced drilling activity in the past year have hurt oilfield services companies' revenues and profits. This has negatively affected energy service companies' ability to service debt. In addition, many OFS companies, which had leveraged up earlier when the shale production was booming, are now left with weaker balance sheets. Of course, large rig equipment makers and rig-related technology service providers like Schlumberger (SLB) and Halliburton (HAL) have been relatively insulated due to their strong balance sheets and relatively more solid businesses. However, many smaller firms have been hit hard. Schlumberger makes up 0.60% of the SPDR S&P 500 ETF (SPY).
Next, we'll discuss Seventy Seven Energy's bankruptcy case.