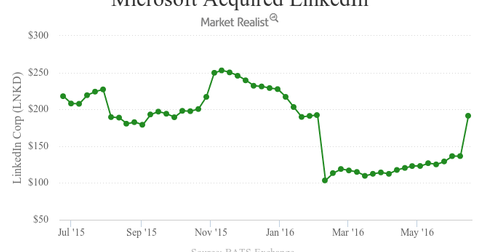 Is It a Good Time to Buy Valeant Pharmaceuticals (VRX)?
By Surbhi Jain

Nov. 22 2019, Updated 7:17 a.m. ET
Some aren't bearish on Valeant
Valeant Pharmaceuticals's (VRX) stock is down from its historic peak of over $250 to below $25 within a span of one year. The stock has been trending downward for a while and has lost over 90% of its value in the past year. However, there are those who aren't quite as bearish on the stock.
[marketrealist-chart id=1399190]
Article continues below advertisement
Is VRX fairly valued?
According to Rodman & Renshaw's Raghuram Selvaraju, Valeant's underlying assets are not fairly valued by the market and the company is capable of making a turnaround. Selvaraju's company has a "buy" rating on the stock with a $90 price target.
According to Selvaraju, Valeant already has some damage control measures in place such as a distribution agreement with Walgreens. Valeant is rolling back of some of the price hikes implemented in 2015 on some of their most expensive drugs.
It is also exercising more price-mitigating strategies on some of its lower-priced drugs. Selvaraju believes that once Valeant's reputation is resurrected, the company could have a positive turnaround tale.
Bear turns bull
There are other hints that seem to suggest that Valeant Pharmaceuticals (VRX) could see a turnaround. Citron Research, once a bear for Valeant Pharmaceuticals and part of the reason for the stock's massive decline since last year, is now bullish on the stock.
In an interview with CNBC in mid-May 2016, Andrew Left of Citron Research expressed his belief that the stock is oversold. The firm is currently long on VRX, while also being invested in certain protective puts on the stock. Left clarified his position, noting that he does not expect the stock to move beyond $60. However, he does find buying VRX "a good opportunity" as part of a larger portfolio.
In the past, Citron Research has been right about its bets against GoPro (GPRO) and Valeant (VRX). Citron seems to see more value in LinkedIn (LNKD) than Facebook (FB) as an Internet (FDN) and social media stock.
Recently, Citron research made a bearish statement about Facebook (FB), a popular stock. With regard to Microsoft's (MSFT) acquisition of LinkedIn (LNKD), Left commented on CNBC that he sees LinkedIn "as a monopoly in their respective space, whereas I see Facebook losing share to Snapchat and overstaying its welcome in other niches. I am not saying Facebook is a bad company…just will not be a $330 billion company in a year."