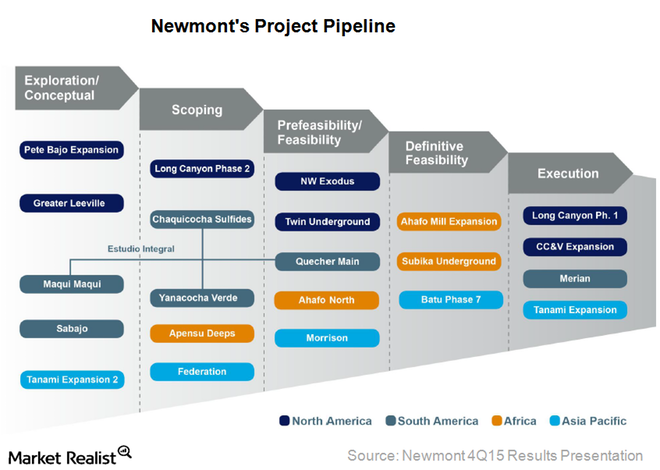 Can Newmont Offer an Upside due to These Positive Catalysts?
Rating changes
On June 2, 2016, Jefferies downgraded Newmont Mining (NEM) from "buy" to "hold" due to a near-term price risk from gold and its relatively higher valuation following its strong price performance year-to-date.
Goldman Sachs (GS), on the other hand, upgraded Newmont from "buy" to "neutral" in May. It believes that the start of Merian and the sale of the Batu Hijau mine in Indonesia could be positive near-term catalysts.
Article continues below advertisement
Lower price leverage
While a falling gold price (GLD) (IAU) environment would be negative for all the gold miners (SGDM) (GDX), including Newmont, it has shown lower leverage to gold prices year-to-date as compared to its senior peers such as Barrick Gold (ABX), Kinross Gold (KGC), and Yamana Gold (AUY).
Newmont's financial leverage has come down during 2015 and 2016. It has also delivered a strong cost performance, delivering volumes at all-in sustaining costs (or AISC) of $828 per ounce for 1Q16.
This is 17% lower quarter-over-quarter and 2.5% lower year-over-year. This would make it fall proportionately less in the case of a gold price pullback due to a Fed interest rate hike or other factors.
Medium-term catalysts
The medium-term catalysts for Newmont's stock include the start of Merian, which will add extra ounces below the company's average cost. The company's ongoing process for sale of its copper and gold operation in Indonesia, Batu Hijau, is also likely to impact its stock positively. It should improve the company's geographical profile and reduce its near-term capital expenditure bill.
The proceeds from the stake sale could be used for debt reduction, which would further assuage investors' worries about Newmont's high financial leverage and could lead to re-rating.
Please read our take on Newmont Mining's 1Q16 results, What Drove Newmont Mining's 1Q16 Beat: All You Need to Know, to learn more about Newmont's price upside potential and upcoming catalysts.