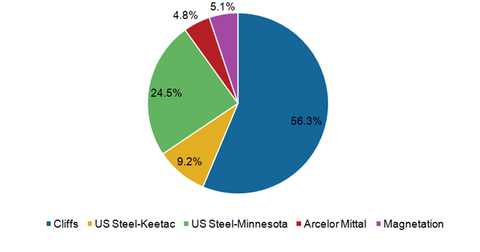 What Does the New Agreement with ArcelorMittal Mean for Cliffs?
By Anuradha Garg

Updated
New agreement with ArcelorMittal
On May 31, 2016, Cliffs Natural Resources (CLF) announced that it has entered into a new long-term agreement with ArcelorMittal (MT) for the supply of pellets. The agreement will run through 2026 and will replace the contracts that were due to expire in December 2016 and January 2017. The new agreement includes MT's total purchase of up to 10 million tons of iron ore pellets from Cliffs. This agreement maintains Cliffs's position as ArcelorMittal's sole outside supplier of pellets in the United States. The new agreement also establishes a minimum tonnage of 7 million tons, which is higher than the current minimum tonnage under the previous two contracts combined.
Article continues below advertisement
Pricing under new contract
Prices under the new contract will be determined by the movements in US (QQQ) (VTI) steel prices, seaborne iron ore prices, and inflation indices. The company also stated that based on current market levels, it expects an improvement in overall realized revenues for US iron ore per ton between 2016 and 2017.
Positive for Cliffs
The new contract, along with its minimum tonnage clause, is a significant positive for Cliffs. It removed the uncertainty about Cliffs's long-term revenue stream from its largest customer. One of the factors determining the outcome of this contract renewal was Essar Steel Minnesota's pellet plant. This new contract establishes Cliffs's position as a dominant pellet supplier in the Great Lakes area. The above chart shows Cliffs's annual rated capacity tonnage for iron ore pellets. It is the dominant player, followed by U.S. Steel Corporation (X) and ArcelorMittal USA. Since the majority of Cliffs's revenues and earnings come from the US steel market, we'll look at recent trends in US steel prices in the next part of this series.