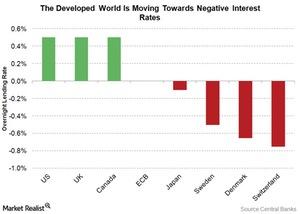 Gundlach: Negative Interest Rates Are the Definition of Deflation
By Surbhi Jain

Nov. 20 2020, Updated 2:04 p.m. ET
On negative rates
Gundlach has no interest in sovereign debt at negative interest rates. He said that it's a "guaranteed loss." Bill Gross shares this view. To learn more, read Investing in Negative Interest Rates Is Guaranteed Losses.
Treasury bond (TLT) (SHY) yields in the US are range-bound, anchored in part by the fact that central banks in Europe (HEDJ) (VGK) and Japan (EWJ) have taken to negative rates. It's hard for them to rise because the economy seems to provide no reason.
Article continues below advertisement
On the rate hike
For the US (SPY), Gundlach doesn't see negative interest rates happening. He also doesn't see a rate hike or a cut coming any sooner.
"The lower interest rates go, stock markets go down; they do not go up," said Gundlach. He supports his view by citing Europe's case. Europe's stock market was at its peak when it announced negative rates. The important thing to note here is that its stock market was peaking, not rallying. It has been falling ever since.
"Negative interest rates are the definition of deflation," says Gundlach. "You cannot fight deflation with deflation." Gundlach stands by his belief that one of these days, central bankers will realize when they lower interest rates more into the negative, their stocks markets weakened, their economies weakened, and their currencies got stronger, but growth still remained anchored. Then, they will resort to the fiscal stimulus.
On fiscal stimulus
In the short term, it will appear to work. However, it will be detrimental in the long term. It will lead to a short-term increase in growth at the expense of debt-to-GDP ratios, but that's the last thing left to try.
To learn more, read Carl Icahn on George Soros, Bill Ackman, Donald Trump, and Stocks.
To stay updated on our latest analysis on asset manager portfolios and their commentaries, visit Market Realist's Active Management page.