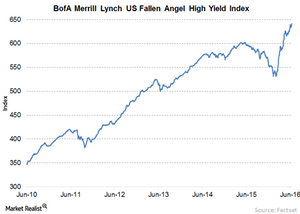 Why Own Fallen Angel Bonds?
By VanEck

Aug. 29 2016, Updated 5:02 p.m. ET
In this series, VanEck responds to our questions and looks at how fallen angel bonds have provided attractive relative income without an unsavory level of risk.
What is a fallen angel bond?
A fallen angel bond is a high yield bond that was originally issued with an investment-grade credit rating of BBB- and above.
Article continues below advertisement
Could you provide an example of a fallen angel bond?
Some well-known fallen angels are ArcelorMittal (MT), JCPenney (JCP), Dell (DELL), Sprint (S), and Nokia (NOK).[1. As of May 31, 2016, VanEck Vectors Fallen Angel High Yield Bond ETF net assets included 5.0% in ArcelorMittal, 0.7% in JCPenney, 1.3% in Dell, 2.9% in Sprint, and 0.9% in Nokia.]
Data as of June 22, 2016. Past performance is no guarantee of future performance. Index performance is not illustrative of fund performance. Please click the "Disclosures" link at the beginning of this article for descriptions of the indices referenced in this chart. Fund performance current to the most recent month end is available by visiting www.vaneck.com/etfs.
VanEck offers a way to access this market through the VanEck Vectors Fallen Angel High Yield Bond ETF (ANGL). Could you discuss the ETF's characteristics, including its sector exposure and overall credit quality?
Yes, ANGL seeks to track the BofA Merrill Lynch US Fallen Angel High Yield Index (Fallen Angel Index), which is comprised of below investment grade corporate bonds denominated in U.S. dollars, issued in the US domestic market and that were rated investment-grade at the time of issuance. Fallen angel bonds tend to have a higher average credit quality and interest rate duration than typically found with broad market high yield bonds. Given their higher average credit quality, fallen angel bonds typically have a slightly lower yield than the broad high yield market but historically, from a total return perspective, they have also tended to outperform. This is due to the potential for price appreciation from fallen angel bonds—in particular a key component of the investment case for fallen angels.
Sector weightings can also differ significantly from the broad high yield bond market. For example, we have seen the Fallen Angel Index go from underweight the energy sector 12 months ago to overweight during early 2016.