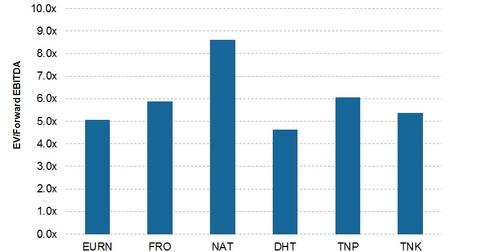 NAT Has Highest Valuation Multiple, DHT Lowest among Peers
By Sue Goodridge

Updated
Valuation multiple for crude tankers
Crude tanker companies are cyclical and volatile in nature. These companies are capital-intensive, with high levels of depreciation and amortization. Also, these companies have varying degrees of financial leverage.
It's best to value and compare such companies using EV-to-EBITDA[1. Enterprise value to earnings before interest, tax, depreciation, and amortization] multiples.
The forward EV-to-EBITDA multiple tells us how a company is valued for each dollar of EBITDA that it's expected to earn. A lower ratio might indicate that a company is undervalued, but not always.
Article continues below advertisement
How to interpret EV-to-EBITDA multiples
Companies with higher risk can also have low valuation multiples. These risks can be any type of financial risk, including having higher leverage or operational risk.
Companies that are less popular among investors may also be trading at lower valuation multiples.
DHT Holdings's low multiple
DHT Holdings (DHT) is currently trading at a forward EV-to-EBITDA multiple of ~4.6x, the lowest among its peers. The company has a strong balance sheet. It has a good mix of spot and fixed exposure.
DHT's tankers are relatively young, and it's expanding its fleet. Despite these factors, investors have given it a lower valuation, most likely due to its convertible debt.
Article continues below advertisement
Nordic American Tankers's high multiple
Nordic American Tankers (NAT) was trading at a one-year forward EV-to-EBITDA multiple of 8.6x on June 17, 2016. This multiple is the highest among its peers. The market is most likely giving a premium multiple to NAT due to its strong balance sheet and consistent dividends.
NAT has a low break-even cost and one of the highest EBITDA margins among its peers. Its high dividend yield is one of the reasons why investors value it more than its peers.
Teekay Tankers's valuation can be misleading
Teekay Tankers (TNK) is trading at a forward EV-to-EBITDA multiple of ~5.4x. The company has many of its vessels classified as operating leases.
This can artificially keep its enterprise value on the lower side, which can result in a misleading EV-to-EBITDA multiple.
Others
Tsakos Energy Navigation (TNP), Frontline (FRO), and Euronav (EURN) are trading at forward EV-to-EBITDA multiples of ~6.1x, ~5.9x, and ~5.1, respectively.
Shipping companies make up 19.7% of the Guggenheim Shipping ETF (SEA). Investors interested in broad exposure to the industrials sector could invest in the SPDR Dow Jones Industrial Average ETF (DIA).