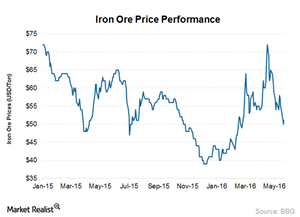 Why Does the Medium-Term Outlook for Iron Ore Look Somber?
By Anuradha Garg

Updated
Supply to increase
As we've seen previously in the series, the supply side for iron ore remains strong with the ramp-up of Roy Hill and Vale's S11D remaining on track. At current elevated prices, some of the marginal supply has also been reactivated, which will further exacerbate the demand-supply scenario.
Article continues below advertisement
The demand side
The demand side for iron ore got a boost from speculators. This magnified the gains from the government's infrastructure and easing plans. With the recent crackdown, speculative activities have declined, limiting iron ore's gains. The fundamental demand also received a boost from government measures, but that could soon lead to overheating the economy, which might force the government to tighten again.
This doesn't bode well for iron ore prices. So until fundamental demand and supply factors improve, a sustainable iron ore price rally seems quite far off.
Future catalysts
In the future, any further announcement of stimulus measures and relaxation in the rules in the futures market could again spark a rally in iron ore prices. But in the absence of sustainable physical demand-supply fundamental backing, that could also be short-lived.
The key thing to note here is that the pullback in iron ore prices isn't something that iron ore majors are too worried about. They've been following the policy of higher volumes at lower costs to drive out marginal suppliers.
With prices remaining low for an extended period, suppliers that climb back in with production as rates rise should be demotivated enough to shutter their operations permanently. This should help majors such as BHP Billiton (BHP), Rio Tinto (RIO), Vale SA (VALE), and Fortescue Metals (FSUGY) to gain more market share.
Cliffs Natural Resources (CLF), the US-focused (QQQ) (VTI) iron ore pellet producer, is shielded to a large extent from the volatility of seaborne iron ore prices. However, volatility will continue to indirectly impact the company's fortunes.