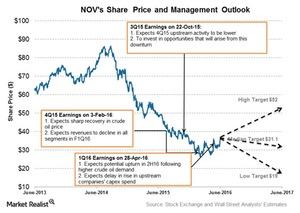 What Are Management's Estimates for NOV in 2Q16?
By Alex Chamberlin

Jun. 10 2016, Published 12:14 p.m. ET
Does NOV's management see recovery in 2016?
National Oilwell Varco's management expressed optimism over potential crude oil production and demand recovery in 2H16.
Clay Williams, NOV's chair and CEO, said in the company's 1Q16 conference call, "While we are not planning for a recovery in 2016, we are encouraged by reports from some customers that they are beginning to think about a potential upturn in the second half of the year, as oil production is finally begun to rollover and demand continues to march upward."
Article continues below advertisement
National Oilwell Varco's backlog issues in Brazil
As of March 31, NOV's capital equipment backlog was $3.3 billion, 68% lower than a year ago. In December 2015, NOV's seven floating rigs contract with its customer Sete Brasil Participações in Brazil was cancelled when Sete filed for bankruptcy.
This and further falls in drilling activity during 1Q16 led to NOV's removing $2.1 billion worth of orders from its backlog. NOV expects $1.2 billion–$1.3 billion worth of revenue from its backlog for the remainder of 2016.
Management's estimates for NOV
NOV's management has made the following earnings estimates going forward:
a 30% fall in the Rig Systems segment's revenue in 2Q16 compared to 1Q16 due to falling backlog
an improvement in the Rig Systems segment's operating margin
a mid single-digit percentage fall in the Rig Aftermarket segment's revenue
a fall in the Rig Aftermarket segment's EBITDA (earnings before interest, tax, depreciation, and amortization) due to a depressed energy market
a 15% revenue fall in the Wellbore Technologies segment compared to 1Q16
a mid to high single-digit percentage fall in the Completion & Production Solutions segment's revenue
a mid-30% fall in the Completion & Production Solutions segment's operating margin compared to 1Q16
Analysts' targets for Halliburton
While the lowest target price for National Oilwell Varco is $19, the highest is $52. The median target price for NOV, surveyed among sell-side analysts, is $31.1.
National Oilwell Varco is currently trading near $37, implying a 16% downside at its median price. CARBO Ceramics (CRR), NOV's peer, received a $13.3 median target price. This implies a 6% downside compared to its current price. NOV makes up 0.07% of the SPDR S&P 500 ETF (SPY).
Next, we'll discuss National Oilwell Varco's revenue and earnings.