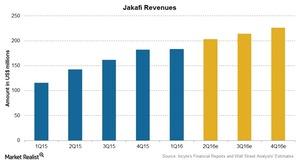 A Look at the Performance of Incyte's Jakafi
By Mike Benson

Updated
Jakafi, Incyte's oncology drug
As we've already seen, Incyte's (INCY) oncology drug Jakafi (ruxolitinib) is the only FDA- (U.S. Food and Drug Administration) approved drug for the treatment of myelofibrosis and polycythemia vera, rare types of blood cancers. Incyte sells the drug in US markets.
It has also entered into a collaboration agreement with Novartis (NVS) for commercialization of the drug outside the United States. Incyte receives royalties for the sale of the drug outside the United States.
Article continues below advertisement
In 1Q16, revenues for Jakafi increased more than 59% to $183.2 million, compared to $115.3 million in 1Q15. The revenues were from sales in the United States. The increase in revenue was due to volume as well as price growth in the quarter. The above graph shows Jakafi revenues for the last few quarters and estimates for the next three quarters.
Other details about Jakafi
Below are some details about Jakafi:
Jakafi is Incyte's first FDA-approved product in US markets.
Incyte has patents that cover the composition of the matter and use of Jakafi up to November 2026. Extensions have been granted for these patents through late 2027.
The FDA has granted orphan drug status to Jakafi for myelofibrosis, polycythemia vera, and thrombocythemia.
Jakafi is the first FDA-approved Janus-associated kinase (or JAK) inhibitor for any indication. It's an oral JAK1 and JAK2 inhibitor.
FDA approval was based on two Phase III studies—Comfort-I and Comfort-II. They demonstrated significant reductions in splenomegaly, or enlarged spleen, through the use of Jakafi.
Incyte has established a patient assistance program called IncyteCARES. CARES stands for Connecting to Access, Reimbursement, Education, and Support. It focuses on eligible patients having access to Jakafi.
To divest risk, you can consider the iShares Nasdaq Biotechnology (IBB), which holds ~3.2% of its total assets in Incyte. IBB also holds 8.0% of its total assets in Celgene (CELG), 8.5% in Regeneron Pharmaceuticals (REGN), and 4.3% in Mylan (MYL).
In the next part, we'll take an inside look at Incyte's product portfolio.