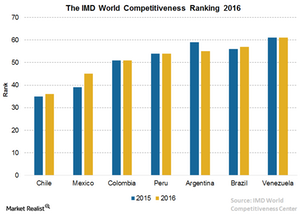 Why Does Latin America Need to Improve Competitiveness?
By Armando Senra

Jul. 12 2016, Updated 5:07 p.m. ET
More competitive and productive. To different degrees, Latin American countries try to promote the growth of startups and small and medium-sized enterprises (SMEs), but more can be done to improve competitiveness and productivity. In a World Economic Forum competitiveness ranking, the five largest Latin American countries by gross domestic product—Brazil, Mexico, Argentina, Colombia, Peru—came in between 57th and 106th, out of the 140 economies measured. As a region, only sub-Saharan Africa scored lower.
Article continues below advertisement
Why? For one, administrative burdens for businesses in the region are high, think red tape, bureaucracy, paperwork. According to the World Bank, it takes 83 days to start a business in Brazil, Latin America's largest economy. This compares to 29 days in India and 6 days in Italy, countries that are similar in size to Brazil in terms of gross domestic product. Likewise, regional bankruptcy laws can be debilitating. Penalty on failed ventures discourages entrepreneurship—a primary source of innovation—and lifting that penalty could have a positive impact, for example.
Market Realist – Improving competitiveness and productivity
In many Latin American (ILF) (ECH) countries, higher growth and development have been accompanied by loss of competitiveness and a decline in productivity. The 2016 World Competitiveness Ranking of 61 nations released by the IMD business school ranks Chile 36th, while other countries from the region are in the bottom 20.
Mexico fell from 39th position in 2015 to 45th in 2016. Brazil (EWZ) slipped from 56th to 57th place during the period. However, Argentina rose from 59th to 55th place, while Colombia maintained its 51st position.
Article continues below advertisement
Latin America's productivity problem is severe compared to many other emerging nations. The Inter-American Development Bank has found that growth in total factor productivity accounted for only 58% of overall per capita income growth in Latin America from 2001–2010. That compares to 90% and 72% in China (FXI) and ASEAN (Association of Southeast Asian Nations) countries, respectively.
Bankruptcy procedure
In most Latin American countries, resolving bankruptcy-related issues takes between three and five years. That compares to an average of six to 18 months in countries such as the United States (IVV), Japan, and South Korea.
Uncertainty surrounding the current bankruptcy procedure is affecting the entire entrepreneurial ecosystem, including debtors, creditors, innovators, and entrepreneurs. In order to encourage innovation, a key priority for governments is to promote entrepreneurial activities while amending rules to facilitate easy foreclosures. This should alleviate the fear of higher bankruptcy costs to entrepreneurs in the event of a downturn.