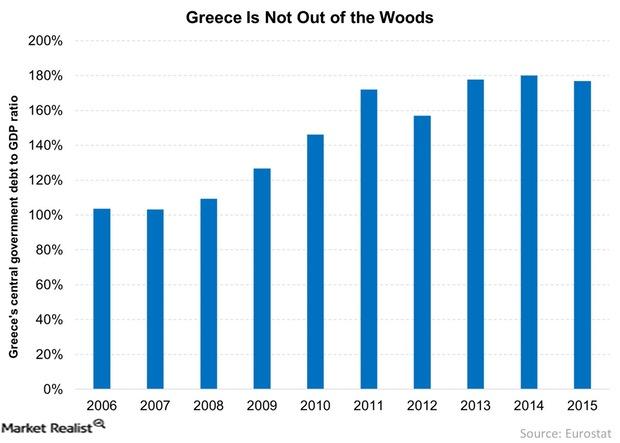 What Does the Latest Greek Debt Deal Mean?
By Sanmit Amin

Jun. 6 2016, Published 6:12 p.m. ET
EU reaches Greek debt deal
Greece will avoid another debt crisis with upwards of €10 billion in financial aid from the Eurozone. The money will be disbursed in time for Greece to make its next round of debt payments, which come due in July. The deal was reached between Eurozone finance ministers and the International Monetary Fund. It includes limited debt relief for Greece—but not until 2018, after elections in some of the Eurozone's largest member states.
Article continues below advertisement
Market Realist – Greece is not out of the woods yet, despite the deal
Greece's creditors have reached a deal to avoid default. It involves the extension of maturities and an adjustment of interest rate payments with a lot of things yet to be decided. This is an example of "kicking the can down the road."
The IMF (International Monetary Fund) remains involved and retains its demand for debt restructuring. However, this has removed one of the potential risks for the summer, with the deal being reached comfortably ahead of the loan disbursement next month.
The bailout money is supposed to buy Greece time to stabilize its finances and quell market fears that the European Union (FEZ) (EZU) could break up. While it has helped, Greece's economic problems haven't gone away. The Greek economy has shrunk by 25% in five years, and a quarter of the nation is still unemployed.
The money is going toward paying off Greece's international loans rather than making its way into the economy. And the government still has a staggering debt load, as the graph above shows. It can't begin to pay the debt down unless a recovery takes hold. Greece's (GREK) debt-to-GDP ratio stands at a precarious 177%.
The Greek government probably needs to continue putting economic overhauls in place. This would include the unwinding of capital controls as well as fiscal discipline required by the Greek debt deal that the country's prime minister, Alexis Tsipras, brokered in August 2015.